(Adam McGill)
As we continue to chase racers and race series across this great land of ours in 2018, we've also been battling the weather along the way.  This weekend our factory support semi will make its way to Society Hill, SC for Round 5 of the GNCC Series.  It's getting late in the year, but you can still stop by and pick up a free catalog and some stickers if you are lucky enough to be attending the races.
On the track we'll have ATV riders hitting a challenging course on Saturday as well as bikes on Sunday.  The last time the GNCC Series took to the track at Steele Creek, Adam McGill stood on top of the podium in the XC1 ATV Class and will be looking to repeat that performance.  On Sunday we'll be represented by a host of Pro and privateer riders including members of the KR4 Husqvarna Arrive-N-Ride Team and Team Coastal Racing.  The ultimate hope is that the weather doesn't play havoc as it has all season.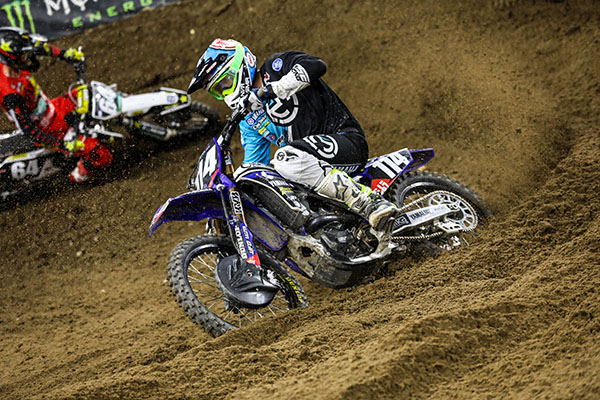 (Brandon Hartranft)
This weekend the AMA Monster Energy Supercross Series heads to Foxboro, MA where the Cycle Trader Rock River Yamaha Motorsport Team will be concentrating their efforts on 250 rider Brandon Hartranft.  He is coming off a career best finish of 4th at Minneapolis and is eager to make it to the podium.  Teammate Alex Ray will be competing in the premier 450 Class and has his sights set on making the night show.
After a break, the AMSOIL Arenacross Series is back on the track and making a visit to the Pacific Northwest.  Team Babbitt's Kawasaki riders Jacob Hayes and Ryan Breece will be looking to put Moose Racing in the winner's circle.  Jacob is crawling his way back to the top of the season point's standings with teammate Gavin Faith out due to injury.
Be sure to stay tuned to http://www.mooseracing.com/ for the latest race updates, gear and accessories.  You can also follow us on Facebook, Twitter and Instagram for the most up-to-date news from Moose Racing.
FEATURED PRODUCT
Moose Racing:  Spoke Wrench Kit
Moose Racing is rapidly expanding our presence in the wheel market and there are more exciting new products to come.  Many riders are customizing their wheel set-ups and color matching rims and hubs to their bikes.  We have added an offering of wheel, spoke and nipple sets, but there is also a need to maintain those products with the proper tools.
Our new Spoke Wrench Kit is an inexpensive way (at $29.95 retail) to have the right tools at your disposal for any set-up you are working on.  This kit includes 10 bits to fit all Moose Racing, and most stock, nipple sizes.  The machined aluminum handle accepts two threaded bits at one time.  Those hardened steel bits come in sizes of 5.4, 5.6, 5.8, 6.0, 6.1, 6.2, 6.4, 6.5, 6.8 and 6.9mm sizes and they can all be seen here http://www.mooseracing.com/products/?productId=492127
Upcoming Races
April 21, 2018
AMA Monster Energy Supercross Series – Round 15
Gillette Stadium
Foxboro, MA
More Information https://www.supercrosslive.com/
April 21-22, 2018
AMSOIL Arenacross Series – Round 10
Veterans Memorial Coliseum
Portland, OR
More Information http://www.arenacross.com/
April 21-22, 2018
AMSOIL GNCC Series – Round 5
"CST Camp Coker Bullet"
Moree's Sportsman's Preserve
Society Hill, SC
More Information https://gnccracing.com/
April 21, 2018
Kenda AMA National Hare & Hound Championship Series – Round 4
Little Sahara OHV
Jericho, UT
More Information http://nationalhareandhound.com/wp/
April 21, 2018
Grand Kankakee Trail Riders AMA District 14/16/17 "Sand Booger"
Meridian & 600N
Roselawn, IN
Starts at 11:00AM
More Information http://gktrailriders.com/
Open Houses
April 20, 2018
Nextgen Powersports
235 US Hwy 63
Clear Lake, WI
Phone:  (715)263-2244
9:00AM-3:00PM
More Information https://www.nextgen-powersports.com/
April 21-28, 2018
McCarthy's Yamaha
8373 N. State Route 66
Defiance, OH
Phone:  (419)782-4883
8:00AM-4:00PM
More Information https://www.mccarthys-sales.com/