(Tayla Jones)
Round 6 of the National Enduro Series hit the Pennsylvania terrain this weekend and the KR4 Arrive-N-Ride Husqvarna Team was there with a full stable of riders in many different classes.  Once again running at the top of her game, Tayla Jones started out the day trying to find her groove in the challenging conditions as ferns had overgrown many parts of the trail, but underneath there were many rocks waiting to take out the field.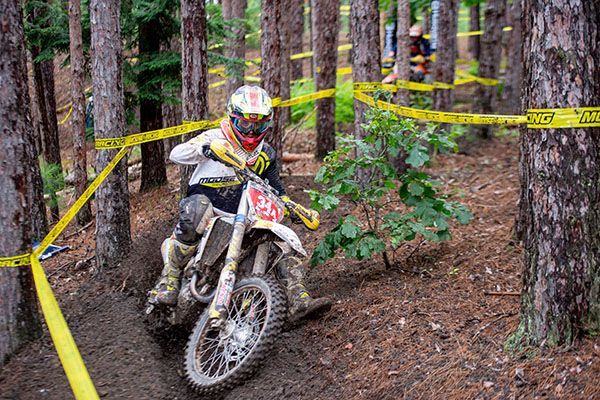 (Cory Buttrick)
Regardless of any challenges that the course would provide, she once again rode to the overall victory and represented Moose Racing at the top of the podium in the Women's Pro Class.  Teammate Cory Buttrick continued his 2018 theme of "hard luck" as he experienced a damaged rear brake line.  He would still battle hard, but the mechanical issue would push him back to a 7th overall finish in the Pro 1 Class.
The La Crescent Wine & Spirits Spring Creek National also took place in Millville, MN this past Saturday and Round 8 saw a number of riders from the Cycle Trader Rock River Motorsport Team attempt to make their presence known in a highly-competitive 250 Class.  Hayden Mellross led the charge, but went down at the start of Moto 1.  Despite a re-mount in dead last, he would race his way back to 33rd.  His second moto would go better as he would finish 15th and post an 18th overall for the day.  Jamison DuClos is still fighting to find his way during his young Pro career and failed to make the cut for the top 40 positions during qualifying.
Be sure to stay tuned to http://www.mooseracing.com/ for the latest race updates, gear and accessories.  You can also follow us on Facebook, Twitter and Instagram for the most up-to-date news from Moose Racing.