We are very proud of all our sponsored Moose Racing riders.  But the families that ride & race together are something very special as many of you know.  This is a shared sport for families to create memories.  Over the next several weeks we will be featuring a sponsored Moose Racing family.
Want to know more about father & daughter duo Will & Alexandra Stambaugh?  Then read on…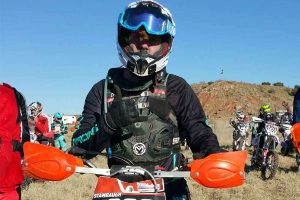 WILL HAS THIS TO SAY:
Thank you very much for the opportunity for this extra exposure. I love racing I love the excitement the friends and everything that comes with it. Now of course my family is going to be a part of racing because their dad is enjoying his favorite thing.  The time I get to spend with my kids is the best, hours upon hours of driving to races talking about where we're going. The adventures we get to see along the way the race is just a small part of the actual adventures.
I think my most memorable moment of racing was racing the Tennessee knockout in 2017. I made it to the second round which is not that big of a deal but it was to me. I trained really hard and prepared, and it was quite the achievement. Then in 2018 I raced the extreme enduro The Rev Limiter. In this enduro I got behind my motorcycle and accidentally caught my thumb in the rear spokes, dragging it into the brake caliper this was horrific pain removing my thumb in my motorcycle. Three surgeries later, and one year later I went back to the Rev Limiter to make it through the first three Knockouts to make the first round on Sunday. I feel like I have now conquered that race.
In the 2019 race season Alexandra A.K.A. "Gator", and I will be racing, The Hare and Hound series, endurocross, and catching the occasional AMA Extreme Enduros that doesn't interfere with those two races series. We also are part of an organization that is Rocky Mountain Trials Association.
I love the Extreme Enduro –  the true talented, and tough riders. My favorite off-road races would be either the Rev Limiter, or TKO. My favorite place to ride is the riding in Montrose, Colorado one of the greatest places on the earth. Surrounded by 70% BLM land. We have diversity of terrain –  from tight technical woods, to wide-open desert all within 30 minutes of my backyard where I also have an endurocross course setup.
If I could give any tips to any beginners it would be get on a trials bike. Every Monday afternoon at the Stambaugh racing compound we host an event called Oset Mondays. Where I grab a couple large pizzas, and encourage children of all ages to come enjoy, practice, and get pointers. Balance control and pizza. It is a great experience. The Osets are electric trials bikes ranging from 12 inch in to 24 inch tires. My best advice besides that, would be to ride, ride, ride, ride, ride, ride, ride.
I think one of my all-time favorite people to watch and be part of would-be Graham Jarvis. I got to meet him at the TKO and he is just a stand-up nice guy. Willing to come shake a fan's hand and autograph whatever you put in front of him. He is just a nice rounded trials bike, and extreme Enduro winner. Never letting his age slow him down, and I think my favorite Pro-Rider would be Cody Webb. At the Endurocross series he would come up to Gator and tell her what a great job she was doing, and how awesome it was to see a little twelve-year-old girl going out there tackling these huge obstacles that even these pro riders are having difficulty getting over. It's also nice that Colton Haaker said similar things great job, awesome to see you out here.
I think my favorite thing about Moose Racing is their communication, and their products you can go on their website and literally search anything and something will pop up. You can get everything from Mild to Wild from Moose Racing, from chains to levers, air filters to oil they have some of the greatest looking gear on the market really tough and made for the off-road and on-track riders. Thank you so much for the opportunity to be part of such an amazing organization. Looking forward to years more racing with you now. I'm going to hand it over to Gator so she can answer…
And this is gator answering her questions …My favorite thing about racing with my family is to experience it together. And all the memories we share, and look back on the moments that were the most incredible. My most memorable moment is when I was in a National Loretta Lynn's qualifier. I was one position away from making it to Loretta Lynn's.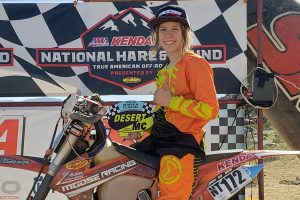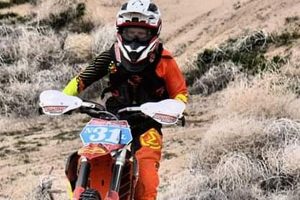 THIS IS WHAT ALEXANDRA STAMBAUGH HAS TO SAY: 
Will Stambaugh, and I will be racing, Hare and Hound, Endurocross, AMA extreme Nationals every once in a while, and Rocky Mountain Trials Association.
My most favorite track in Montrose is the one in our backyard. We have an endurocross track in our yard that we use for "Oset Mondays" at our house. Oset Mondays is were kids of any age come to our house, and get pointers from my dad and I  on their Osets which are electric trials bikes that range from a 12 inch to a 24 inch tires. I love the Endurocross Series and the people who race the series.
The one of many tips that I have is keep your feet on the pegs and STAND UP. One of my favorite pro riders/people that I look up to is definitely Cody Webb. He is so humble to his fellow riders, and is so good at riding. I love all Moose Racing products, I love how Moose Racing has a variety of everything.
Moose Racing:  We know this father / daughter duo have many more adventures ahead of them.  We look forward to being a part of it along their journey.  Go Team Stambaugh!
Upcoming Races
July 7, 2019
Dist. 4 "Round 3 NY State Trials Championships"
152 King Rd
Beaverdams, NY
Starts @ noon
www.district4trials.com
Upcoming Open Houses
Check back next week.
Be sure to stay tuned to http://www.mooseracing.com/ for the latest race updates, gear and accessories.  You can also follow us on Facebook, Twitter and Instagram for the most up-to-date news from Moose Racing.