Kemea Yamaha can look back on a decent Grand Prix of Turkey, in Afyon. Ben Watson finished fifth overall (4+4), while teammate Anthony Rodriguez came home in seventh position (7+6).
Round 17 of the world championship took place in Afyon, Turkey. A brand new venue, about 1.000 meters above sea level, where the riders faced a fast, hard packed track and high temperatures (around 35 degrees).
Watson had a brilliant start in the first moto on his new YZ250F in fourth position. The Briton dropped one place in the first lap, but gained one place again after a crash of Jonass and finished fourth. Rodriguez didn't have the best start in that first moto, but rode very aggressive in the first laps and quickly moved up into eighth position. Eventually A Rod had to settle for seventh, just behind reigning world champion Pauls Jonass.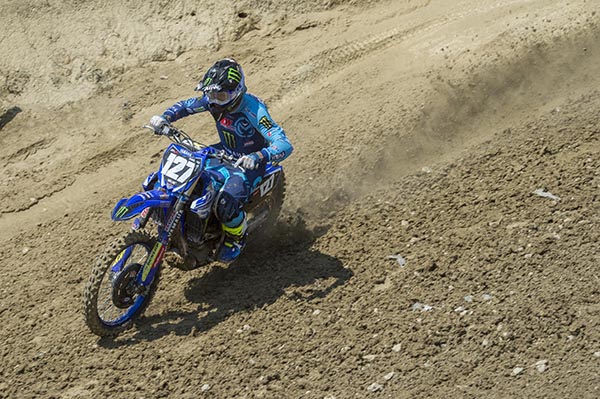 GREAT STARTS
Watson took another fantastic start in the second moto, right behind Covington, but got passed quickly by Jonass, Prado and Olsen. The Briton regrouped, produced the fastest lap of the race on lap 7, passed championship leader Prado and finished fourth. Rodriguez also had a good jump at the gate, but lost a few places after a small mistake. The Venezuelan made some great passes to come back into seventh place. Not enough for A Rod, as he also managed to pass championship leader Prado at the end of the race.
GEERTS
Meanwhile, Jago Geerts is on schedule to make his comeback in Assen in two weeks time. The Belgian teenager broke his collarbone in Switzerland two weeks ago and had surgery one day later. Geerts is working hard on his return together with his physiotherapist.
#919 Ben Watson – 5th Overall
"I'm really happy with my weekend. Fifth is a decent result after a few tough weeks. I was able to show my real speed again. Especially in the second moto. I really had a good feeling on the bike and enjoyed this Grand Prix. It was fun to fight with the top guys again. It was very hot, 35 degrees, but physically I felt good. I'm still in good shape. I'm already looking forward to Assen. Deep sand. Tough race. That's something I like. I hope to make another step again in Assen."
#127 Anthony Rodriguez – 7th Overall
"Today was a pretty good day. First moto I didn't have the greatest start but made some passes in the first few laps and the riding was pretty good which put me in the 7the position. Second moto I was about top four in the first turn. in the second turn Jonass almost fell in front of me, I made a little mistake which allowed a few riders to pass me. I came back, up to Prado, caught him and finished sixth. I was seventh overall. Maybe that doesn't sound that good, but my riding was really good."