(Kade Johnson)
It's that time of year again when the country's best amateur riders and their families descend on Loretta Lynn's MX Ranch in Hurricane Mills, TN for the amateur nationals.  Our factory support semi will again be there the entire week to support a number of racers along with spending time with the throngs of people in attendance.  Our location has changed to a more fan-friendly one and we'll be showcasing many of our new 2019 products so stop by and see us.  We'll have free catalogs and stickers to hand out as well.
On the track we'll be represented by a number of racers including a pair of riders under the canopy of the Cycle Trader Rock River Yamaha Motorsport Team.  Jamison DuClos recently got his Pro card, but is taking a weekend off from the Lucas Oil Pro Motocross Championship Series to race this event.  He will be joined by Kade Johnson who has been on a hot streak this summer.  He won the 65cc Class at amateur day in Daytona, FL as well as the same class at the Mammoth Mountain MX.  He also qualified for this race at Muddy Creek Raceway on his road to Loretta's.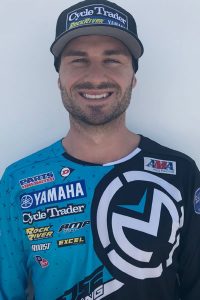 (Hayden Mellross)
The Rock River Team will be playing double-duty on Saturday as they put Hayden Mellross on the track at the famous Washougal MX facility in Round 9 of the aforementioned Lucas Oil Series.  He is coming off an 18th overall finish at the Spring Creek National and wants to build on that result as the season starts to wind down.  A top 10 finish is certainly not out of the realm and he will be charging hard while he flies the Moose Racing colors.
Be sure to stay tuned to http://www.mooseracing.com/ for the latest race updates, gear and accessories.  You can also follow us on Facebook, Twitter and Instagram for the most up-to-date news from Moose Racing.
Upcoming Races
July 28, 2018
Lucas Oil Pro Motocross Championship Series – Round 9
Washougal National
Washougal MX Park
Washougal, WA
More Information http://www.promotocross.com/mx/home
July 27-August 4, 2018
Loretta Lynn's Amateur MX Nationals
Loretta Lynn's Ranch
Hurricane Mills, TN
More Information https://mxsports.com/welcome
Open Houses
Be sure to stay tuned to these posts for an upcoming dealer open house in your area.