Round 14 of the World Championship in Loket, Czech Republic, turned out to be a very difficult one for Kemea Yamaha. Ben Watson crashed out in the second heat and Anthony Rodriguez wasn't able to ride because of a hand injury. Jago Geerts finished ninth.
The World Championship returned to Europa after two back-to-back grand prix in Indonesia. Round 14 was hosted in Loket, a small town in the western part of the Czech Republic. Loket is famous for its 12th-century gothic castle, its annual opera festival, its part in the 2006 James Bond film Casino Royal and of course for its motocross track. An old school, hard-pack circuit with a lot of natural elevation.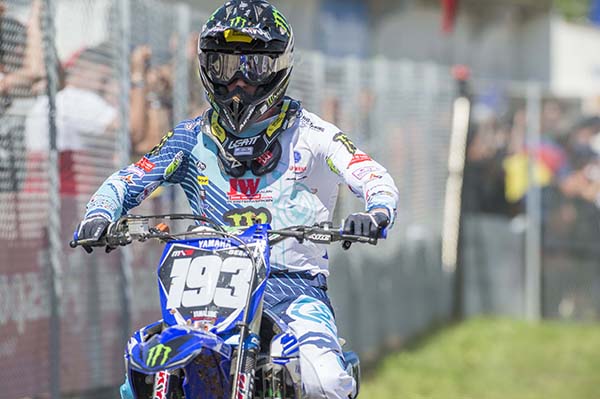 The Kemea Yamaha riders started well in the first moto with Geerts in 3rd and Watson in 5th position in the first corner. Unfortunately, both Kemea boys quickly dropped back into 8th and 9th position. Watson regrouped halfway the race and managed to gain some places, finishing 6th. Geerts got stuck in 9th position all race long.
The start of the second moto was pretty good with Geerts in 4th and Watson in 5th position. Geerts lost five places in the first lap, while Watson passed Renaux. The Briton seemed to join the leading group, but made a mistake on lap four. He crashed on the take-off of the finish jump and couldn't continue the race because his bike was bent. Meanwhile, Geerts was in tenth position. In the final lap the Belgian teenager managed to move up one more place after passing Renaux.
Bad luck is haunting Anthony Rodriguez this season. The Venezuelan couldn't avoid a crash in front of him during the qualifying race on Saturday, got the bike of another rider over him and cut his hand. A Rod had to go to the hospital to get two fingers stitched and wasn't able to start in the motos.