Round 8 of the AMSOIL GNCC Series took place over the weekend at the Seneca Highlands facility in Alpine, NY. The "Dunlop Tomahawk" was very good to Moose Racing on a number of fronts. Our semi was parked on vendor row and the foot traffic of racers and spectators was tremendous. We handed out a ton of catalogs and our staff was overwhelmed with questions about our display bikes and hard parts.
The racing action started out on Saturday and despite all the rain that many areas of the country have seen so far this spring, dry conditions dominated the weekend. Adam McGill had a less than stellar start which forced him to ride in the dust for the entire race. Jarrod McClure ran up front for most of the two hour race and just missed out on a podium spot after getting caught behind a back marker on the last lap. When the clock ran out, it was McClure finishing 4th and McGill in 5th overall.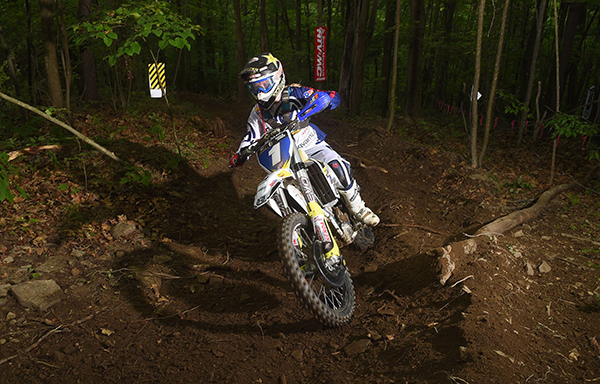 Sunday was no better for the riders, but that didn't stop the Moose Racing team from claiming a number of spots on the big box. In the Women's Class, Tayla Jones had a big crash at the end of lap one which forced her to pull over for some repairs. She would battle back for a 2nd place finish and was joined on the podium by Brooke Cosner who was 3rd.
Team Coastal Racing had another impressive showing with Alex Teagarden finishing 3rd in XC3, and in XC2 it was Craig DeLong in 2nd and Pascal Rauchenecker in 3rd. The KR4 Husqvarna Arrive-N-Ride Team also made some noise with the following results:
-XC1 – Layne Michael (6th and 9th overall) / Cory Buttrick (13th)
-XC2 – Liam Draper (5th and 11th overall)
Be sure to stay tuned to http://www.mooseracing.com/ for the latest race updates, gear and accessories. You can also follow us on Facebook, Twitter and Instagram for the most up-to-date news from Moose Racing.