(Adam McGill)
The dominant theme from a number of this past weekend's races was rain and what it did to our racers and teams.  Starting out west, the AMA Monster Energy Supercross Series made its annual visit to CenturyLink Field in Seattle, WA where Mother Nature made it nearly impossible for our riders to get any kind of momentum on a sloppy track.  The Cycle Trader Rock River Yamaha Motorsport Team was led by Alex Ray who was returning from injury, but unfortunately had to DNF in the 450 Class.  Dylan Merriam was filling in for Bradley Taft on the 250.  He had a good qualifying run and everyone had high hopes for a good finish, but he too would DNF due to bike issues in the less-than-ideal conditions.
The AMSOIL GNCC Series was also plagued by rainy conditions, but that didn't stop the Moose Racing Team from posting some impressive results.  Friday brought tons of rain and vehicles were getting stuck all over the pits.  Saturday's ATV race was muddy, but our very own Adam McGill persevered through it all and won the XC1 ATV Class.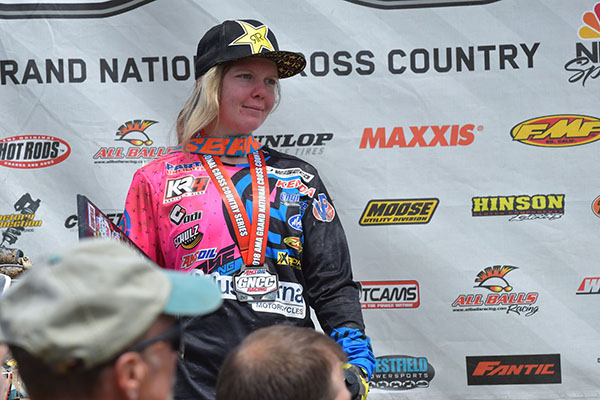 (Tayla Jones)
Sunday's action saw the rain stop and the 10:00AM start was dry for the Women's Class.  KR4 Arrive-N-Ride's Tayla Jones led most of the race and was well on her way to another win, but she got stuck behind a lapper on the second-to-last lap and which cost her the win.  Jones ended up 2nd overall with Brooke Cosner finishing just off the podium in 4th.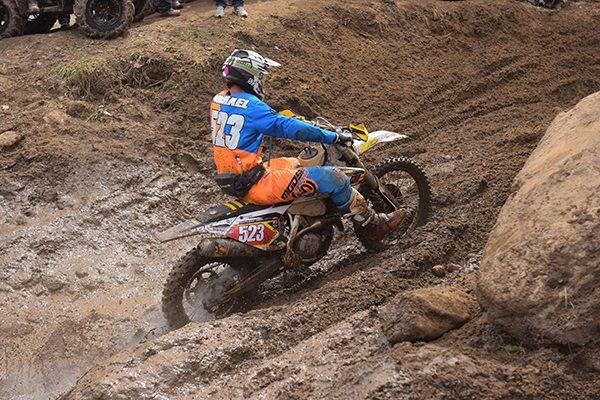 (Layne Michael)
The afternoon races were filled with great racing and we had a number of riders in the top 10.  Leading the charge in the XC1 Pro Class were Team Beta's Jordan Ashburn in 6th, followed by KR4's Layne Michael in 7th and Cory Buttrick in 9th.  In XC2, Team Coastal Racing's Paul Rauchenecker made a visit to the big box in 3rd.  He was directly followed by Craig DeLong in 4th and Liam Draper in 5th.  Also making a visit to the podium was Alex Teagarden in 3rd for the XC3 Class.
Another bright spot for the weekend was Team Babbitt's Kawasaki rider Jacob Hayes taking the overall win in Wichita, KS at the AMSOIL Arenacross Series.  With his win, he regained the overall series point's lead and is on a mission.
Be sure to stay tuned to http://www.mooseracing.com/ for the latest race updates, gear and accessories.  You can also follow us on Facebook, Twitter and Instagram for the most up-to-date news from Moose Racing.