The state of Florida provided the epicenter of two, and four, wheeled racing action this past weekend.  The annual Bike Week events in and around the Daytona area bring in a huge crowd of enthusiasts, industry personnel, fans and racers.  The Moose Racing semi was on hand at Round 2 of the GNCC Series on Palatka, FL where our staff was busy showing our latest product offerings as well as handing out free stickers and catalogs.
The racing action got underway on Saturday with ATV riders hitting the track.  We were pinning our hopes on a couple of XC1 riders and they didn't disappoint.  Adam McGill rode hard all day and finished 2nd overall.  Right behind him in 3rd, and also making a visit to the podium was Jarrod McClure.  The Moose Racing effort for the top 10 was rounded out by Marty Christofferson in 9th.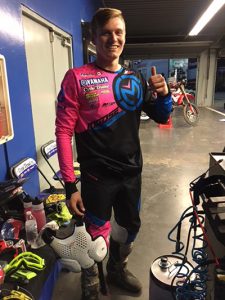 (Brandon Hartranft)
Saturday night the action moved to the famous Daytona International Speedway for Round 10 of the AMA Monster Energy Supercross Series.  The Cycle Trader Rock River Motorsport Yamaha Team once again sent two riders to the night program.  Bradley Taft once again filled in for Alex Ray in the premier 450 Class.  He qualified 15th and finished out his night in the 18th overall position.  Brandon Hartranft continued his assault on the 250 East Coast Class.  He had a very respectable evening by qualifying 7th and finishing in 8th overall.
On Sunday things moved back to Palatka as the GNCC bikes got their turn in the hot weather.  The track was rough and demanding, but that didn't stop Moose Racing riders from visiting the podium.  Once again leading the way was KR4 Arrive-N-Ride Husqvarna's Tayla Jones.  She started out slow, but soon worked her way through the field and ended up taking the overall win in the WXC Class.  Brooke Cosner finished just off the big box in 4th.
In the premier XC1 Class, it was KR4's Layne Michael who had the top finish in 5th overall.  In XC2 action Team Coastal Racing's Pascal Rauchenecker took the 3rd overall position with teammate Craig Delong right behind him in 4th.  KR4's Liam Draper stayed inside the top 10 and finished 8th.  Rounding out our team results was KR4's Colin Keegan taking 9th in XC3.  Team Coastal's Alex Teagarden was looking to follow up his win in Round 1, but had to settle for 15th.
Be sure to stay tuned to http://www.mooseracing.com/ for the latest race updates, gear and accessories.  You can also follow us on Facebook, Twitter and Instagram for the most up-to-date news from Moose Racing.