(Brandon Hartranft)
Moose Racing was well represented all over the map this weekend with race series cranking up everywhere.  Our factory support semi was in Tampa, FL for Round 8 of the AMA Monster Energy Supercross Series.  The event was sold out and when it opened for the pit party, we were swamped with fans.  We had a great spot right next to the entrance and our exposure was phenomenal.
On the track, our efforts were focused on the Cycle Trader Rock River Yamaha Motorsport Team and their lone rider Brandon Hartranft.  After qualifying in the 11th position, the team knew it was going to take an effort in the LCQ to make the night show.  He started in 6th and worked his way all the way up to 2nd, but a rookie mistake in the final corner trying to pass for the lead would cause him to crash and leave him out of the main event.
We had much better results at the opening round of the GNCC Series where we were well-represented by a number of race teams and participants.  The weather on Friday and Saturday was perfect with a light breeze and sunshine.  Adam McGill led the charge during Saturday's ATV action, but got off to a slow start.  This caused him to ride in everyone else's dust and he would have to settle for 4th overall.  Right behind him was Jarrod McClure in 5th.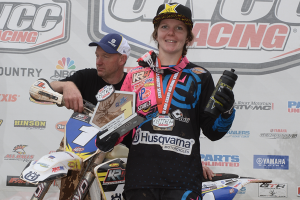 (Tayla Jones)
A morning rain shower on Sunday made the track a bit greasy which provided for some great action in the WXC Class.  KR4 Husqvarna's Arrive-N-Ride's Tayla Jones persevered through a tough field and ended up winning the race.  She battled with a number of riders including Brooke Cosner who would end up just off the podium in 4th.  A complete re-cap of Moose Racing's top results are as follows:
XC1 Bike Class:
-Layne Michael (KR4 Arrive-N-Ride Husqvarna) – 6th
-Cory Buttrick (KR4 Arrive-N-Ride Husqvarna) – 8th
-Jordan Ashburn (Team Beta) – 9th
XC2 Bike Class:
-Pascal Rauchenecker (Coastal Racing Husqvarna) – 3rd
-Craig DeLong (Coastal Racing Husqvarna) – 5th
-Liam Draper (KR4 Arrive-N-Ride Husqvarna) – 9th
XC3 Bike Class:
-Alex Teagarden (Coastal Racing Husqvarna) – 1st
Be sure to stay tuned to http://www.mooseracing.com/ for the latest race updates, gear and accessories.  You can also follow us on Facebook, Twitter and Instagram for the most up-to-date news from Moose Racing.