(Bradley Taft)
Round 3 of the Monster Energy AMA Supercross Series heads back to the site of Round 1 and Anaheim, CA this Saturday night.  Angel Stadium saw some exciting action the first time around and this one shouldn't disappoint fans as well.  The Cycle Trader Rock River Motorsport Yamaha Team will once again be on hand where riders Alex Ray and Bradley Taft will be looking to continue their move up the point's standings.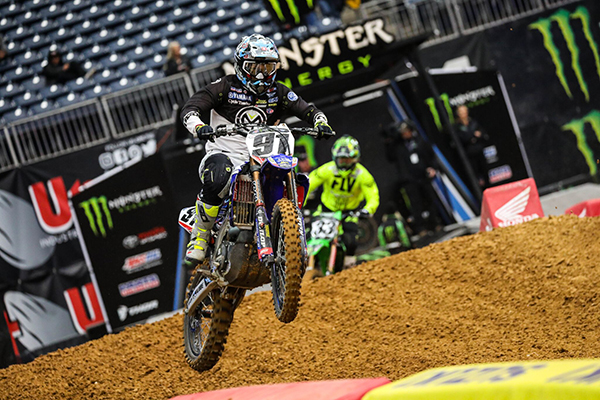 (Alex Ray)
Our factory semi will also be on hand and our staff will be there as well.  We'll be showcasing our latest product offering along with handing out free catalogs and stickers.  If you are planning to get out and see all the racing action, please stop by and see us.
The AMSOIL Arenacross Series will also hold Round 3 this weekend at the Mohegan Sun Arena in Wilkes-Barre, PA.  The Babbitt's Kawasaki Team has been running up front all season so far and they are once again being led by two-time defending series champion Gavin Faith.  Teammate Jacob Hayes was really fast in Worcester, MA last Saturday night as well and will be looking to surpass his teammate for the top spot on the podium.
Be sure to stay tuned to http://www.mooseracing.com/ for the latest race updates, gear and accessories.  You can also follow us on Facebook, Twitter and Instagram for the most up-to-date news from Moose Racing.
Upcoming Races
January 20, 2018
AMA Monster Energy Supercross Series – Round 3
Angel Stadium of Anaheim
Anaheim, CA
More Information https://www.supercrosslive.com/
January 20-21, 2018
AMSOIL Arenacross Series – Round 3
Mohegan Sun Arena
Wilkes-Barre, PA
More Information https://www.supercrosslive.com/
January 21, 2018
Steel Shoe Fund "3-Hour Endurance Ice Race"
W921 Kettle Morraine Lane
Campbellsport, WI
Starts at 12:00 Noon
More Information http://steelshoefund.org/
Open Houses
Be sure to stay tuned to these posts for an upcoming dealer open house in your area.