(Bradley Taft)
The 2018 Monster Energy Supercross tour is headed east this weekend and will be in Houston, TX this Saturday night at NRG Stadium.  Moose Racing will be represented by the Cycle Trader Rock River Motorsport Yamaha Team.  Bradley Taft and Alex Ray had some success in Anaheim last weekend and will be looking to improve on their top 20 finishes.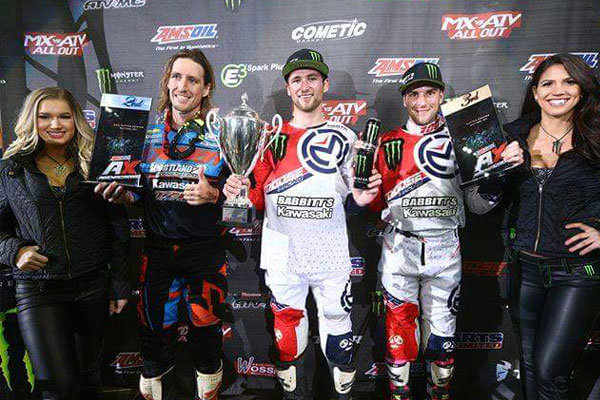 The AMSOIL Arenacross Series moves a little further to east and Worcester, MA on Saturday night as well.  Two-time defending champ Gavin Faith has his eyes set on another win, but he is sure to experience a serious threat from teammate Jacob Hayes.  Hayes is fired up and knows he can improve on his 3rd place finish in Dayton, OH.  The action is always intense with Arenacross and we'll be following the results closely.
Be sure to stay tuned to http://www.mooseracing.com/ for the latest race updates, gear and accessories.  You can also follow us on Facebook, Twitter and Instagram for the most up-to-date news from Moose Racing.
FEATURED PRODUCT
Moose Racing:  Motorcycle Handwarmer Kit
As we told you last week, despite the frigid temperatures that this year tends to bring, it's still a great time to ride whether you are trail riding or testing your skills on the ice.  One way to make your time in the saddle more enjoyable is to use one of our Motorcycle Handwarmer Kits.  These are another fine Moose Racing product that can be instrumental in extending your riding season.
This kit allows the heating elements to be fit neatly and discreetly under your original, or aftermarket, grips.  They are easy to install with two-stage heat settings and are suitable for all types of bikes.  The kit includes a throttle heater, clutch heater, round rocker switch, hardware, plastic tie straps and instructions.  They are proudly made in the USA and you can check them out here http://www.mooseracing.com/products/?productId=137139
Upcoming Races
January 13, 2018
AMA Monster Energy Supercross Series – Round 2
NRG Stadium
Houston, TX
More Information https://www.supercrosslive.com/
January 13-14, 2018
AMSOIL Arenacross Series – Round 2
DCU Center
Worcester, MA
More Information http://www.arenacross.com/
Open Houses
Be sure to stay tuned to these posts for an upcoming dealer open house in your area.