We are just weeks away from kicking off the 2018 race season at the Anaheim 1 Supercross in sunny, southern California.  The Moose Racing semi will be on hand to support our Cycle Trader Rock River Yamaha Team along with select other privateers who will be looking to make the night show.  We hope you get a chance to stop out and see us and check out the latest products we have on display as well as grabbing a free 2018 catalog and some stickers.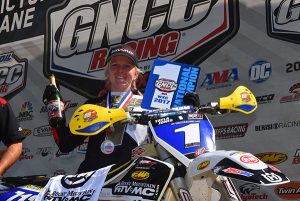 (Tayla Jones)
In the meantime, we'd like to take this opportunity to introduce you to another one of our top-notch offroad riders.  Tayla Jones took the US racing circuit by storm in 2017 while racing for the KR4 Arrive-N-Ride Husqvarna Team.  In the process, the likeable Australian rider took three national championships including a GNCC title, the Full Gas Sprint Enduro Series and the National Enduro Series.  Later in the year she she competed for her home country in the prestigious ISDE event where she played a major role in helping her teammates take gold medals in the Women's Division.  Tayla will be back with the KR4 Team in 2018 and it goes without saying that we are very excited to be sponsoring her again.
Be sure to stay tuned to http://www.mooseracing.com/ for the latest race updates, gear and accessories.  You can also follow us on Facebook, Twitter and Instagram for the most up-to-date news from Moose Racing.
Upcoming Races
The 2018 racing season will be starting up again in a few weeks, but it's a pretty good bet there are still some local races in your area that you can take advantage of so get out there and ride!  Moose Racing is already preparing for next year and is dedicated to keeping you updated on all the action so stay tuned to these posts for future events.
Open Houses
December 7-9, 2017
Empire Motorsports
3500 N. Cliff Ave.
Sioux Falls, SD
Phone:  (605)997-5511
9:00AM-8:00PM
More Information http://www.empiremotorsportssf.com/
December 8-9, 2017
Suzuki of Sarasota
304 Triple Diamond Blvd.
North Venice, FL
Phone:  (941)925-0376
10:00AM-5:00PM
More Information https://www.sarasotafunmachines.com/