With most race series complete and only a couple remaining (see below if there are any in your area for the weekend) we turn our focus to one of our sponsored riders.  We are extremely proud of all our sponsored riders on Team Moose Racing, but would like to take this time to feature Elliot Key.  Elliot finished this season as the National Champion in both the East Coast and the West Coast NATC Series.  We'd like you to know a little bit about Elliot so we asked him the following questions.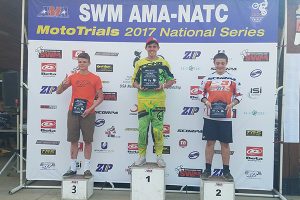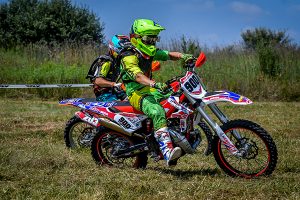 Q:  What age did you begin racing?
A:  My Dad put me on a 3-wheeler when I was 18 months old.  I don't remember that, but I do know that I can't remember a time that I wasn't riding a motorcycle.
Q:  What was your first bike?
A:  My first race bike was a Yamaha PW50.  This bike is hanging up in our garage.  Dad says we'll never get rid of it.  That's pretty cool.
Q:  What was your favorite race?
A:  So far my favorite was the NATC Moto Trails National in Palo Duro Canyon, Amardillo, TX.  It is one of the best places to ride because of the terrain.  It is the second biggest canyon in the U.S.
Q:  What series do you race & what is your current standing?
A:  For Moto Trials, I complete in the NATC (National American Trials Council), High School Class & I finished as National Champion in the East Coast & also the West Coast Series.  Next year (2018) I will compete in the Expert 125 National Class.  I will be competing in a few National Endurocross races as well as some Crossroads Racing Series and IXCR as well as MWXC.  I will compete in as many events as possible for the rest of this season.
Q:  What championships have you won?
A:  I have 2 National titles at the Clubman level (East and West Coast), a National (East Coast) in the Junior Class, and 2 National titles (East & West) in the High School Class.  I also have 6 National titles (East & West Coast) in the Youth Moto Trials Series).
Who is your role model in life?
A:  My Dad is my role model; he supports me, works on my bike & makes sure we have everything when it's time to go compete.  And he's just a fun guy to be around.  Plus he can drive for 15 hours straight.
Q:  Who is your favorite rider?
A:  That would be Ken Roczen.  He inspires me because he came back so strong after his injury.  I admire his drive and determination.
Q:  What are your riding / racing goals?
A:  I have goals for 3 different disciplines of riding.  My first goal is to become Pro for the Moto Trials field and hope to compete overseas.  My second goal is to become a Pro rider in the National Endurocross Series, as Trials and Endurocross go hand in hand and my trials experience will help me.  My third goal is to compete in cross country racing and see where that would take me.  For riding goals, my Dad and I spend a lot of time together in the van getting to different events, and one of our goals that we have talked about for a long time is to sport ride to Alaska from our home in IL.  I hope we can do this once I'm old enough to ride on the road!  And my Mom and sister can fly there to meet us.  It would be so awesome to do that!
Other comments:  I enjoy training on the motorcycle and working out in the gym as many days as possible.  I am a DA8 athlete and that program has helped me a lot.  I am also happy to be sponsored by MOOSE RACING!
So, when you see Elliot or any other Moose Racing sponsored rider at the races help cheer them on!
Moose Racing is currently accepting rider resumes for the 2018 racing season and will do so through November 15th.  If you, or someone you know, is an aspiring racer and would like to join our team next year, please check out the following link http://www.mooseracing.com/rider/sponsorship/
Be sure to stay tuned to http://www.mooseracing.com/ for the latest race updates, gear and accessories.  You can also follow us on Facebook, Twitter and Instagram for the most up-to-date news from Moose Racing.
 Upcoming Races
Nov. 11 – 12, 2017
Forest City Riders Dist. 16/17 Dual Sport
Leaf River, IL
Starts @ 9:30 AM
Nov. 12, 2017
National Hare & Hound – Season Finale (no youth)
Stoddard Wells OHV
Barstow, CA
www.nationalhareand hound.com
Nov. 11 – 12, 2017
Full Gas Sprint Enduro
Big Buck
Union, SC
www.sprintenduro.com
Open Houses
Nov. 10, 2017
2 Brothers Powersports
905 Oak Ave S
Onalaska, WI
Phone:  608-781-3360
7:00 AM – 9:00 PM
www.2brothersPowersports.com