(Tayla Jones)
The 2017 offroad racing season is officially in the books and the final weekend provided Moose Racing with another championship.  The final round of the Kenda Full Gas Sprint Enduro Series was held at the Big Buck Ranch near Union, SC and there was a lot at stake in all of the classes at this famous venue.
KR4 Arrive-N-Ride Husqvarna's Tayla Jones continued her dominance of pretty much every Pro Women's Class in 2017 by taking the overall win and another championship along the way.  Jones won multiple championships this year and we were very proud to have her on our team.  Another Moose Racing sponsored rider, Brooke Cosner put in another impressive weekend by finishing 3rd overall and will be looking to take her riding to the next level in 2018.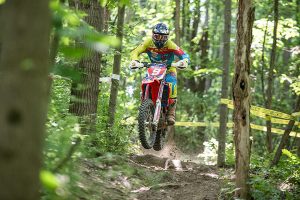 (Jordan Ashburn)
The Men's Pro Class was a hotly contested series all year long and Beta USA's Jordan Ashburn was in the conversation throughout.  By virtue of his top five finish after the checkers fell yesterday, he secured the 2nd overall position for the season.
Moose Racing is currently accepting rider resumes for the 2018 racing season and will do so through November 15th.  If you, or someone you know, is an aspiring racer and would like to join our team next year, please check out the following link http://www.mooseracing.com/rider/sponsorship/
Be sure to stay tuned to http://www.mooseracing.com/ for the latest race updates, gear and accessories.  You can also follow us on Facebook, Twitter and Instagram for the most up-to-date news from Moose Racing.