(Tayla Jones)
The Kenda AMA National Enduro Series is back in action this weekend as Round 7 will take place in Park Hills, MO.  Many of this season's early rounds have been plagued by rain, but this one looks to be dry so the action should be intense.  The Moose Racing team will be represented by a number of Pro riders including KR4 Arrive-N-Ride Husqvarna's Grant Baylor and Beta USA's Jordan Ashburn.  Both are hoping to make a trip to the podium after the dust settles.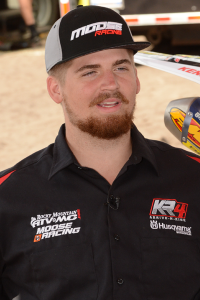 (Grant Baylor)
The action all starts at 9:00AM on Sunday and one of the first classes to test the track will be the Women's division.  KR4's Tayla Jones is fresh off securing a GNCC WXC Women's Class championship and will be looking for another title.  That won't be easy as this group is getting stronger by the week and she will face a formidable challenge from another Moose Racing rider in Brooke Cosner.
Moose Racing is currently accepting rider resumes for the 2018 racing season and will do so through November 15th.  If you, or someone you know, is an aspiring racer and would like to join our team next year, please check out the following link http://www.mooseracing.com/rider/sponsorship/
Be sure to stay tuned to http://www.mooseracing.com/ for the latest race updates, gear and accessories.  You can also follow us on Facebook, Twitter and Instagram for the most up-to-date news from Moose Racing.
Upcoming Races
September 17, 2017
Kenda AMA National Enduro Series Presented by Moose Racing – Round 7
Lead Belt National Enduro
Park Hills, MO
More Information http://www.nationalenduro.com/
Open Houses
September 15-17, 2017
Bob Weaver Motorsports
3400 Niagara Falls Blvd.
North Tonawanda, NY
Phone:  (716)693-1500
Friday & Saturday – 9:00AM-8:00PM
Sunday – 11:00AM-3:00PM
More Information http://www.weaverfever.com/
September 16, 2017
Gopher's Repair
110 E. Tama St.
Livingston, WI
Phone:  (608)943-8533
9:00AM-12:00 Noon
September 16, 2017
Talty Polaris
2498 N. 15th Rd.
Streator, IL
Phone:  (815)586-4895
9:00AM-4:00PM
More Information https://taltypolaris.com/