As we pause and remember all who were affected by the events of 9/11, please join us in remembering the tragic events of that day and how it affected so many people.  The Moose Racing semi spent another great weekend on the road at the 13th annual running of the Parts Unlimited Unadilla GNCC.  Our factory rig was set up in a prime spot on vendor's row giving us an opportunity to spend time with many fans who took to the time to check out our 2018 offering along with picking up free catalogs and stickers.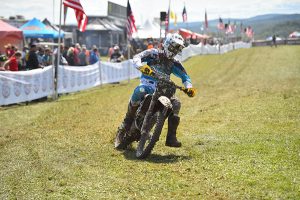 (Grant Baylor)
This weekend's racing action featured a number of great battles and it resulted in at least one championship being claimed for a Moose Racing sponsored rider.  The GNCC Series returned to action after a two-month summer break and saw Beta Racing's Jordan Ashburn battling up front with the leaders in the premier XC1 Class all day even holding the lead at times.  When the dust settled, Ashburn would end up 5th overall.  KR4 Husqvarna's Grant Baylor would join him in the top 10 in 7th.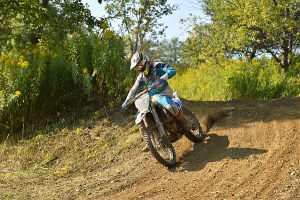 (Hunter Neuwirth)
Some of our other riders made their own noise especially in the XC3 Class.  Jason Thomas rode his Husqvarna to the top of the podium and was joined on the big box by Hunter Neuwirth who ended up 3rd.  With these results, the two put themselves in the top two positions in the XC3 point's standings heading into the stretch drive of the season.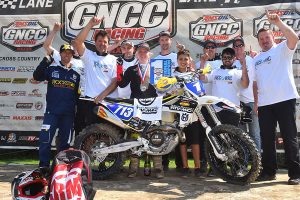 (Tayla Jones)
Probably the biggest accomplishment of the entire weekend belonged to KR4 Husqvarna's Tayla Jones who piloted her bike to another WXC Class win.  In the process she sewed up the championship and secured the #1 plate three rounds early.  It was another strong showing for the Moose Racing team on the podium as Brooke Cosner finished 3rd overall in the event.  Congratulations to Tayla for a great season!
Saturday's ATV race also featured some exciting action as Jarrod McClure ended up 2nd overall.  Moose Racing's Adam McGill was also running near the top and was in 3rd place before a mechanical issue ended his day on the final lap.
Moose Racing is currently accepting rider resumes for the 2018 racing season and will do so through November 15th.  If you, or someone you know, is an aspiring racer and would like to join our team next year, please check out the following link http://www.mooseracing.com/rider/sponsorship/
Be sure to stay tuned to http://www.mooseracing.com/ for the latest race updates, gear and accessories.  You can also follow us on Facebook, Twitter and Instagram for the most up-to-date news from Moose Racing.