(Adam McGill)
The 2017 AMSOIL GNCC Series wrapped up over the weekend and our Moose Racing semi was there to capture all the action.  It was a mixed bag of weather with fairly cold temperatures throughout both days.  The thermometer never crested the 50 degree mark while many racers and fans saw rain on Friday and even some snow flurries on Saturday.  That didn't deter a huge crowd from taking in all the action which is typical for the final round of the series.
Round 13 of the series kicked off on Saturday and it was the ATV classes that kicked off the action with five of the top 10 racers wearing Moose Racing gear.  A highly competitive field sorted itself out and at the end we had two riders on the podium.  Jarrod McClure and Adam McGill finished 2nd and 3rd respectively.  By virtue of his spot on the podium, McClure ended up 3rd overall in the final championship point's standings.  McGill was 5th on the season and Marty Christofferson ended up 8th.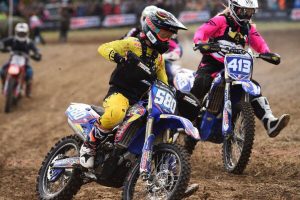 (Brooke Cosner)
Also racing on Saturday was the Women's Class.  Brooke Cosner put in one of her best efforts of 2017 finishing 2nd overall.  There were 900+ entries for the day which made for some bottlenecks on the course.  Crashes were the norm and a "survival of the fittest" theme saw the legendary Dick Burleson just off the podium in 4th in the Industry Class.
Sunday's Pro bike race had a huge buildup with a showdown of big guns ready to bang bars.  KR4 Arrive-N-Ride Husqvarna's Grant Baylor ended up 4th overall and 6th in the final point's standings.  Jordan Ashburn came back to the 8th position despite a first-lap crash.  Ryder Lafferty cracked the top 10 in XC2 with 9th overall.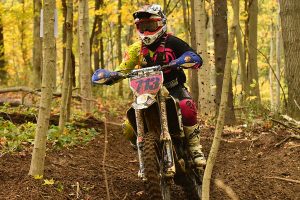 (Tayla Jones)
One of the most exciting races was the XC3 Class.  Moose Racing's Jimmy Jarrett took the Holeshot Award and put some extra money in his pocket as a result.  A pair of KR4 riders, Hunter Neuwirth and Tayla Jones, were part of some great battles.  When the checkers fell it was Neuwirth who ended up 3rd with Jones in 5th.  The podium finish put Neuwirth in a solid 3rd place finish for the season.
Moose Racing is currently accepting rider resumes for the 2018 season and will do so through November 15th.  If you, or someone you know, is an aspiring racer and would like to join our team next year, please check out the following link http://www.mooseracing.com/rider/sponsorship/
Be sure to stay tuned to http://www.mooseracing.com/ for the latest race updates, gear and accessories.  You can also follow us on Facebook, Twitter and Instagram for the most up-to-date news from Moose Racing.