(Gavin Faith)
Team Babbitt's Kawasaki rider Gavin Faith served notice in Florence, SC on Saturday night that he isn't going away anytime soon and plans to fight until the end.  The series' defending champion has been struggling as of late, but went into this round ready to make a statement.  Faith propelled the 2nd best qualifying time into a 1st place finish in his heat race along with the top spot in both of the main event races for the overall victory for the evening.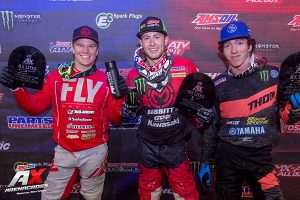 (Isaac Teasdale)
Teammate Jacob Hayes has been dominant as of late, but didn't have as much success on the weekend.  That didn't stop him from making another trip to the podium showing that Moose Racing / Babbitt's riders are the ones to beat in 2018.  Hayes finished 4th overall in the first race and 2nd in the nightcap which put him in 3rd overall for the night.  In the Lites Class, it was another Babbitt's rider who would take the overall win.  Isaac Teasdale finished 1st in his heat race and then went out and won the main finishing at the top of the podium for the night.
Things didn't go as well for the Cycle Trader Rock River Yamaha Motorsport Team at Round 7 of the AMA Monster Energy Supercross Series.  AT&T Stadium in Arlington, TX is a daunting venue, but one that the racers love to compete at.  Already nursing a nasty knee injury, Alex Ray suffered a big crash in practice which forced him to sit out the night program.  Teammate Brandon Hartranft made his debut in the East Coast portion of the series qualifying 8th overall for the evening's program.  He was running in the top 10 for most of the night before a crash of his own pushed him back in the field resulting in a 19th overall place result.
Be sure to stay tuned to http://www.mooseracing.com/ for the latest race updates, gear and accessories.  You can also follow us on Facebook, Twitter and Instagram for the most up-to-date news from Moose Racing.