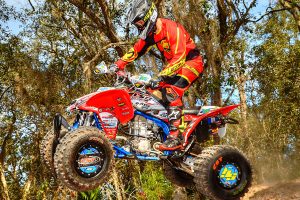 The Moose Racing semi is back on the road this weekend and will be at Round 3 of the AMSOIL GNCC Series.  We'll have representatives on site at the Hill Family Farm in Sparta, GA where the "Maxxis Cannonball" will take place.  If you are going to be in the area racing, or even just to join the throngs of spectators, we'd love to chat with you so stop by, check out our vast product displays and pick up a free catalog and some stickers.
Moose Racing will be represented at the race by a number of Pro, and amateur, riders who will be looking to climb the ranks in their respective classes.  The KR4 Husqvarna Racing Team will be on hand with a large contingent of riders and support staff.  They will be looking to help riders like Grant Baylor and Tayla Jones keep moving up in the point's standings.  We'll also be there supporting the ATV Classes including Jarrod McClure who currently is sitting in 3rd place overall in the XC1 ATV Championship chase.
The Babbitt's Monster Energy Kawasaki Team continues on their quest for another championship run in the AMA AMSOIL Arenacross Series this weekend.  Round 11 takes both riders and teams to the Livestock Events Center in Reno, NV where Gavin Faith continues his quest to be the next series champion in a long line of Babbitt's sponsored riders.  Faith is currently 2nd in pursuit of the title and is coming off a 1-2 finish and 1st overall at the last round.  Teammates Travis Sewell and Gared Steinke are making their own noise this season and are sitting in 5th and 6th respectively overall.  Babbitt's will also have a full compliment of AX West Lites riders on hand for the action.
Be sure to stay tuned to http://www.mooseracing.com/ for the latest race updates, gear and accessories.  You can also follow us on Facebook, Twitter and Instagram for the most up-to-date news from Moose Racing.  You can also now search Moose Racing on Pinterest and follow all our boards.
Upcoming Races
March 25, 2017
AMA Monster Energy Supercross Series – Round 11
Ford Field
Detroit, MI
More Information http://www.supercrosslive.com/
March 24-26, 2017
AMA AMSOIL Arenacross Series – Round 11
Livestock Events Center
Reno, NV
More Information http://www.arenacross.com/
March 25-26, 2017
AMSOIL GNCC Series – Round 3 "Maxxis Cannonball"
Hill Family Farm
Sparta, GA
More Information http://gnccracing.com/
March 25-26, 2017
Kenda AMA National Hare & Hound Series – Round 3
Murphy, ID
*No ATV races at this event
More Information http://nationalhareandhound.com/wp/
Open Houses
March 25, 2017
H&R Powersports
Event Location:  27117 Johnson Rd.
Dade City, FL
Dealership Location:  15232 US Hwy. 19 N.
Unit A
Clearwater, FL
(727)216-6213
3:00-6:00PM
More Information http://www.hrpowersports.com/Default.asp