The 2017 Arenacross season will be upon us before we know it as it all kicks off in Cincinnati on January 7th so now is a great time to showcase one of our star riders.  Gavin Faith has been racing for years, but has always flown under the radar.  Until recently that is.  In 2012, he was bouncing around the Supercross Series moving between fill-in rides and his own privateer effort.  That is when he decided to start training at the Ricky Carmichael Camp in Florida and things fell together.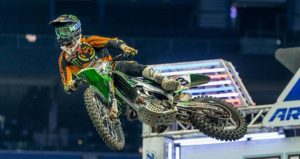 After the season wrapped up, Faith headed to Australia.  It was there that he competed in, and won, the Pro Lites Championship of the Australian Supercross Series.  Gavin is currently racing in the AMSOIL Arenacross Series and in 2015 he achieved his first win.  The success he saw that season catapulted him to a spot on the powerhouse Babbitt's Monster Energy Kawasaki team and together they captured the 2016 Championship.  He is very excited to get back to racing his Kawasaki with the big, red #1 plate for the Michigan based team and we are proud to have him as a member of the Moose Racing team.
-Birthdate:  5/31/92
-Birthplace:  Cairo, GA
-Resides:  Fort Dodge, IA
-Height:  6'1"
-Weight:  170 Lbs.
-Team:  Babbitt's Monster Energy Kawasaki – #1
-Motorcycle:  Kawasaki KX250F
-Training Facility:  Ricky Carmichael Camp in Florida
-Career Highlights:  2016 AMSOIL Arenacross Champion / 2013 Australian Pro Lites Supercross Champion
-Favorite Track:  Las Vegas Arenacross Final
-Dunkin' or Starbucks:  Dunkin'!
-East or West Coast:  East is where his heart is, but he loves the West coast!
-Favorite Food:  Pasta
Be sure to stay tuned to http://www.mooseracing.com/ for the latest race updates, gear and accessories.  You can also follow us on Facebook, Twitter and Instagram for the most up-to-date news from Moose Racing.  You can also now search Moose Racing on Pinterest and follow all our boards.
Upcoming Races
While there are no races to report over the coming weekend, the AMA Supercross and Arenacross seasons will kick off the first week of January so stay tuned for continuing coverage of those events in addition to any local races in your area.
Open Houses
Stay tuned to these posts for an upcoming dealer open house in your area.