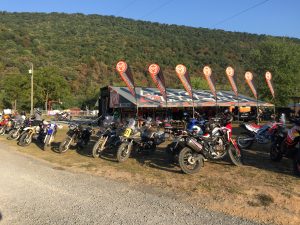 The Moose Racing semi will be attending the "Shenandoah 500" AMA dual sport ride in Mt. Solon, VA this weekend.  The ride is based out of the Natural Chimney's State Park which is a beautiful backdrop of the scenic Appalachian Mountains.  We will be set up on vendor row showcasing our latest offering of dual sport products along with having our knowledgeable staff on hand to answer any questions and offer tips and advice.  With approximately 500km (300 miles) total over both days of scenic back roads, dirt roads and trails accompanied by the changing fall colors, this is sure to be a ride you will not want to miss.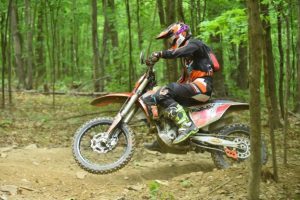 (Jordan Ashburn)
Round 12 of the AMSOIL GNCC Series will be heading back to the Buckeye State of Ohio.  The Powerline Park event is famous for its mud hole jump that showcases thousands of fans cheering on their favorite riders as they attempt to clear what seems to be a bottomless hole.  Jarrod McClure finished 3rd at the last round and will have his sights set on that ATV podium once again.  Adam McGill is hungry to redeem himself after the last round as well.  On Sunday, the motorcycles will hit the fast, rough course where KR4 Husqvarna Racing's Thad Duvall is fresh off a podium finish at the previous round and will be looking to keep that flow going.  Westfield Powersports KTM's Jordan Ashburn and Lojak's Racing's Jason Thomas will be hoping for top finishes as well.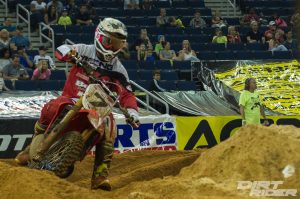 (Kyle Redmond)
Denver, CO is the host city for Round 5 of the AMA Endurocross Series.  Factory Beta Racing's Kyle Redmond has been riding well, but some small mistakes have kept him off the podium where he belongs.  Privateer Kevin "Rookie" Rookstool is travelling from race to race in his fun mover which is now his primary residence and can't wait to get in on the action inside the National Western Events Center on Saturday night.
A reminder that Moose Racing is accepting rider resumes through November 15th for the 2017 racing season.  If you, or someone you know, is an aspiring racer and would like to be part of the Moose Racing team, please go to our website where all the information is available for sending us a resume.
Be sure to stay tuned to http://www.mooseracing.com/ for the latest race updates, gear and accessories.  You can also follow us on Facebook, Twitter and Instagram for the most up-to-date news from Moose Racing.  You can also now search Moose Racing on Pinterest and follow all our boards.
Upcoming Races
October 1-2, 2016
Kenda AMA West Hare Scramble Championship Series – Round 7
Imperial, CA
More Information http://westharescramble.com/
October 1, 2016
AMA Endurocross Series Presented by Moose Racing – Round 5
National Western Events Center
Denver, CO
More Information http://motocross.transworld.net/endurocross/
October 1-2, 2016
AMA National Dual Sport Series "Shenandoah 500"
Mt. Solon, VA
More Information https://watr.us/
October 1-2, 2016
AMSOIL GNCC Series – Round 12
Polaris ACE Powerline Park
St. Clairsville, OH
More Information http://gnccracing.com/
October 2, 2016
North Carolina Hare Scramble Association "Rattlesnake Ridge"
995 Blair Rd.
Taylorsville, NC
Starts at 9:00AM
More Information http://www.nchsa.org/
Open Houses
September 30-October 2, 2016
D&D Cycles
2400 Ferwood Ave.
Pensacola, FL
Phone:  (850)456-0354
10:00AM-7:00PM
More Information http://danddcycles.com/
October 1, 2016
R Lyn, Inc.
18349 Lincoln Hwy. East
Monroeville, IN
Phone:  (260)623-6355
9:00AM-3:00PM
More Information http://rtsales.org/
October 1, 2016
Stodola Precision Performance
2040 23rd St.
Rice Lake, WI
Phone:  (715)234-3630
9:00AM-3:00PM
More Information http://stodolaperformance.com/
October 1, 2016
Faultline Powersports "Red Sticker Ride Day"
351 San Felipe Rd.
Hollister, CA
Phone:  (831)637-8550
More Information http://faultlinemc.com/