We're happy to report we've seen a recent resurgence in OEM manufacturers coming out with new bike models and that can only mean one thing.  The crew at Moose Racing has been busy developing aftermarket parts and accessories that will make your new ride even better than when it rolled off the assembly line.  There are even a number of new fuel injected models and one of our
riders, Kyle Boardman, will be one of the first riders to throw a leg over a KTM 250 XC-W TPi in the state of California.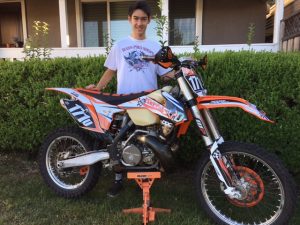 (Kyle Boardman with his current bike)
In addition to KTM and Husqvarna coming to market with new innovation, we have also seen new 2018 models from Honda (CRF250R and CRF450R), Suzuki (RMZ450) and Yamaha (YZ450F).  These new models provide riders who are dedicated to almost any brand to try out a new bike.  Along with this, Moose Racing has everything you need to upgrade them including popular commodities such as a complete line of Bearings, Skid Plates, Bling Packs, Handguards, Sprockets, Radiator Hose Kits and so much more.  For a complete listing of everything new for these models, make sure you check out our website and follow our social media outlets for all of our new products.
Be sure to stay tuned to http://www.mooseracing.com/ for the latest race updates, gear and accessories.  You can also follow us on Facebook, Twitter and Instagram for the most up-to-date news from Moose Racing.
Upcoming Races
The 2018 racing season will be starting up again in a few weeks, but it's a pretty good bet there are still some local races in your area that you can take advantage of so get out there and ride!  Moose Racing is already preparing for next year and is dedicated to keeping you updated on all the action so stay tuned to these posts for future events.
Open Houses
December 4-30, 2017
Dean's Destination "Deanscember Specials"
2645 Frederick Ave.
Oelwein, IA
Phone:  (319)283-2301
December 16, 2017
Northeast Motorsports
451 Carl Broggi Hwy.
Lebanon, ME
Phone:  (207)457-2225
9:00AM-5:00PM
More Information https://nemotorsportsofmaine.com/
December 16, 2017
Pigger's
240 East 19th St.
Dubuque, IA
Phone:  (563)513-6655
11:00AM-2:00PM
*Lunch & Refreshments will be served
More Information http://piggersmotorcycles.com/
December 16, 2017
Side Street Cycles
104 1st Ave. NW
Waukon, IA
Phone:  (563)568-2048
9:00AM-12:00 Noon
More Information https://www.side-streetcycles.com/