(Brandon Hartranft)
It's going to be another epic weekend of racing coming up with events scheduled on both ends of the country.  The Moose Racing semi is taking a much needed weekend off, but we'll still have personnel on hand at the races supporting our riders and teams.  The Cycle Trader Rock River Yamaha Motorsport Team will be in Indianapolis, IN for the Supercross.  Brandon Hartranft will be going it alone in the first 250 East-West Shootout of 2018.  Bradley Taft is still recovering from a concussion he suffered last Saturday in St. Louis, but Alex Ray will be back on the 450 next week in Seattle.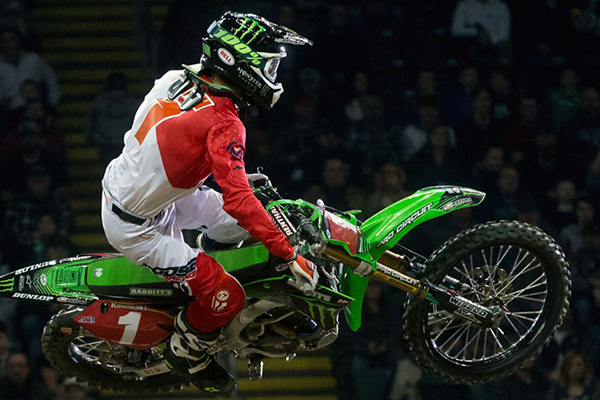 (Gavin Faith)
The Babbitt's Kawasaki Team will continue their 2018 onslaught on the AMA Arenacross Series as they head for Nampa, ID.  Gavin Faith continues to be impressive, but he is sure to be challenged by teammate Jacob Hayes who missed last week's main event after getting tangled up in a qualifying heat crash.
Be sure to stay tuned to http://www.mooseracing.com/ for the latest race updates, gear and accessories.  You can also follow us on Facebook, Twitter and Instagram for the most up-to-date news from Moose Racing.
Upcoming Races
March 24, 2018
AMA Monster Energy Supercross Series – Round 12
Lucas Oil Stadium
Indianapolis, IN
More Information https://www.supercrosslive.com/
March 24-25, 2018
AMSOIL Arenacross Series – Round 8
Ford Idaho Center
Nampa, ID
More Information http://www.arenacross.com/
March 23-25, 2018
Rocky Mountain ATV/MC WORCS Series – Rounds 3&4 (Motorcycles Only/No SXS's)
Crazy Horse
Lake Havasu City, AZ
More Information https://worcsracing.com/
March 24-25, 2018
Kenda AMA West Hare Scramble Championship Series – Round 4
Emmett, ID
More Information http://westharescramble.com/
March 24-25, 2018
Razorback Riders Black Jack Enduro
"White Rock Sprint Enduro"
1920 Madison 4275
Elkins, AR
Starts at 11:00AM
More Information http://razorbackriders.org/
Open Houses
Be sure to stay tuned to these posts for an upcoming dealer open house in your area.