Moose Racing Crowns Three Champions Over the Weekend!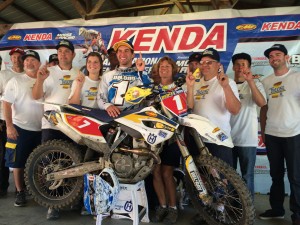 (Andrew Delong)
It was a huge weekend filled with championships for Moose Racing over the weekend and our semi was on hand at the National Enduro final in Matthews, IN to take it all in.  With cooler weather and perfect racing conditions everything was setting up perfectly for Factory Husqvarna Racing's Andrew Delong to take home the title and he did just that!  Delong entered the day with a solid points lead, raced a very tactical race and finished 3rd overall to clinch the 2014 National Championship.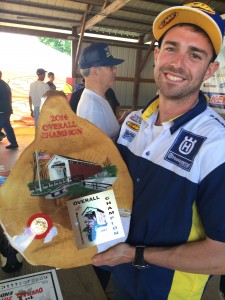 (Russell Bobbitt)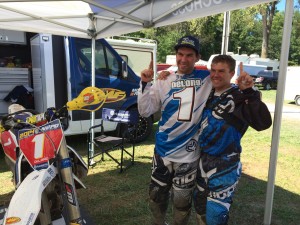 (Andrew Delong – left / Craig Delong – right)
Delong's teammate Russell Bobbitt stepped up the pace in the final stages of the race to come away with the overall victory which is an incredible feat in itself as he was coming off an injury.  Not to be left out of the family celebration, Andrew's younger brother Craig also won his class and with it the AA Expert overall championship as well.  When the dust settled, five of the top 10 overall finishers were all members of the Moose Racing team.  They included Bobbitt, Delong, Nick Fahringer, Cory Buttrick and Ryder Lafferty.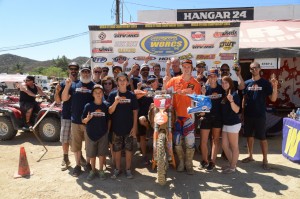 (Travis Coy)
Out west Round 8 of the WORCS Series took place at the famous Glen Helen Raceway in Southern California.  Our very own Travis Coy made a statement of his own for the team capturing the Pro 2 Motorcycle Championship with one round remaining.  Coy has been on a roll on his RPM KTM and his hard work obviously paid off.  In the Pro Class, Justin Seeds cracked the top five finishing in 5th overall.  A big congratulations goes out to all of our champions!
If you, or someone you know, would like to be a part of Team Moose Racing for 2015 we are now accepting racing resumes through November 15th, so let us know what makes you special by applying here http://www.mooseracing.com/rider/sponsorship/
Be sure to stay tuned to http://www.mooseracing.com/ for the latest race updates, gear and accessories.  You can also follow us on Facebook, Twitter and Instagram for the most up-to-date news from Moose Racing.  You can also now search Moose Racing on Pinterest and follow all our boards.