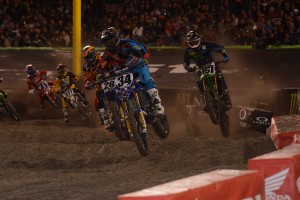 (Phil Nicoletti)
The AMA Monster Energy Supercross Series returns to beautiful downtown San Diego, CA this weekend for Round 6 of the annual tour.  Autotrader JGR Yamaha's Phil Nicoletti is improving his results from week to week and will be looking for that break out ride that he knows he can produce.  Privateers David Pulley and Jared Hicks are living their dreams of racing Supercross and enjoying every minute of it.  The two likeable southern California natives will be battling hard to make the night show.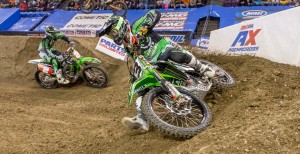 Legacy Arena in Birmingham, AL will host Round 6 of the AMSOIL Arenacross Series this Saturday night.  Babbitt's Monster Energy Kawasaki riders Jacob Hayes, Gavin Faith and Chris Blose sit in the 1st, 2nd and 3rd positions in the Championship point's standings with two podium sweeps so far this season.  They will definitely be looking to continue their dominating ways.

The Kenda Full Gas Sprint Enduro Series Presented by Moose Racing will host Round 1 of their 2016 campaign this weekend in Gaston, SC.  The ISDE format is held over two days and has quickly become a favorite among racers and spectators since its inception.  Moose Racing's newest offroad team, KR4 Husqvarna Racing, will be out in full force with the Pro team and the Amateur team competing in the series.  Thad Duvall heads up the Pro effort followed by Luke Parsons and Women's Pro Sarah Baldwin.  We would like to wish all the competitors the best of luck.
Be sure to stay tuned to http://www.mooseracing.com/ for the latest race updates, gear and accessories.  You can also follow us on Facebook, Twitter and Instagram for the most up-to-date news from Moose Racing.  You can also now search Moose Racing on Pinterest and follow all our boards.
FEATURED PRODUCT
Moose Racing:  Flex Brake & Clutch Levers by ARC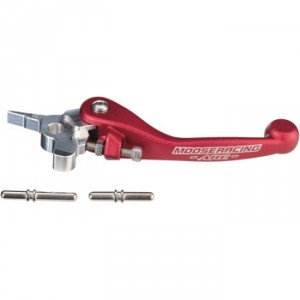 The controls on your bike are just that, your control over your bike and an integral part of how well you compete whether you are play riding or in the heat of competition.  Moose Racing has offered Flex Brake Levers by ARC for some years, but we recently added Husqvarna and KTM applications along with a complete line of Clutch versions as well.
These levers are forged, anodized and hinged with CNC machining.  They feature an adjustable reach that allows you to customize them to your hand size.  The ARC hinged design allows the lever to flex out of the way in most impact situations.  They are available in Black, Blue and Red with laser etched Moose Racing logos and you are going to want to check the expanded application listings here http://www.mooseracing.com/products/?productGroupId=221096&productId=359918
Upcoming Races
February 13, 2016
AMA Monster Energy Supercross – Round 6
Petco Park
San Diego, CA
More Information https://www.supercrosslive.com/
February 13-14, 2016
AMSOIL Arenacross Series – Round 6
Legacy Arena
Birmingham, AL
More Information http://www.arenacross.com/
February 13-14, 2016
Full Gas Sprint Enduro Series Presented by Moose Racing – Round 1
Moto-Vated Sports Complex
Gaston, SC
More Information http://www.sprintenduro.com/
February 13-14, 2016
Kenda AMA West Hare Scrambles Series – Round 2
Picacho Creek Hare Scramble Sponsored by the Salinas Ramblers
Coalinga, CA
More Information http://westharescramble.com/
Open Houses
February 13, 2016
Team 19 Motorsports
5818 State Hwy. 13/73
Vesper, WI
Phone:  (715)569-3701
Starts at 9:00AM
More Information http://team19motorsports.com/