Webb Dominates at TKO for Second Straight Year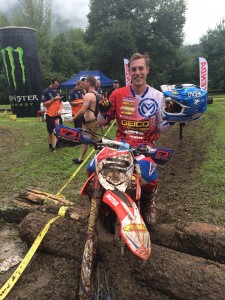 The Moose Racing semi attended the 4th annual running of the Tennessee Knockout Enduro (TKO) over this past weekend in Sequatchie, TN.  As has been the case this entire season, we were afforded a prime spot on the track which provided a great flow of traffic through our area.  Racers, families and fans of Moose Racing had plenty of opportunities to stop by the truck, check out our displays and pick up a catalog or some stickers.
On Saturday evening we hosted a hospitality dinner under our awning for the racers and their families.  Local cuisine was the flavor of the day and everyone was treated to some great BBQ from local legends Hillbilly Willie's.  Many of these folks stopped by all weekend to thank us for the great meal we provided.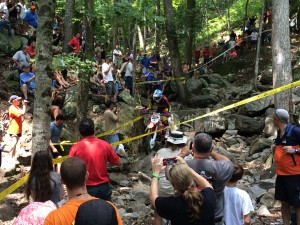 Perfect conditions greeted the competitors when they took to an always challenging course.  Factory Beta's Cody Webb got a blazing fast start and was well on his way to victory when the rains came about halfway through the race.  Undeterred by a little weather, Webb stepped into his own by conquering the deteriorating conditions and left the rest of the field in his wake.  Webb took the checkered flag, and the TKO, for the 2nd straight year.
Be sure to stay tuned to http://www.mooseracing.com/ for the latest race updates, gear and accessories.  You can also follow us on Facebook, Twitter and Instagram for the most up-to-date news from Moose Racing.  You can also now search Moose Racing on Pinterestand follow all our boards.