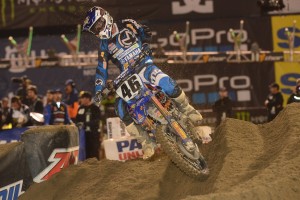 (Phil Nicoletti)
The Moose Racing semi will once again be staged in a prime location in the pits this weekend in Anaheim, CA at Round 5 of the AMA Monster Energy Supercross races.  If you happen to be attending, stop by and see us, pick up one of our free SX lanyards and check out our product displays.  JGR Yamaha's Phil Nicoletti is looking forward to racing again this weekend as he will be back on board his YZ450F.  We hope to see you all there!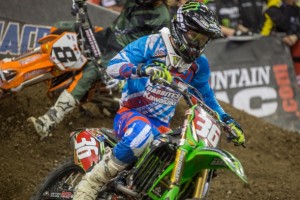 (Matt Goerke)
The AMSOIL Arenacross Series makes a stop in Nashville, TN for Round 4 of that tour.  Monster Energy Babbitt's Kawasaki's Matt Goerke has a 12 point lead over teammate Jacob Hayes heading into the action which means he gets to run the red plate again, but this year's races have shown us some crazy action so we will all have to wait and see who comes out on top.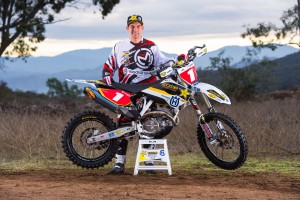 (Andrew Delong)
Another series makes its 2015 debut when Round 1 of the Kenda AMA National Enduro circuit hits the trails in Sumter, SC this Sunday.  Last year's champion Andrew Delong will be looking for a good result on his Factory Husqvarna.  Andrew was quoted as saying, "It's a long season and you need to be consistent".  This year Andrew will be joined by his new teammate, and new rider to this series, Josh Strang.  Rounding out the Moose Racing effort will be Factory Beta's Cory Buttrick and Airgroup Racing's Ryder Lafferty.  We wish everyone the best of luck.
Be sure to stay tuned to http://www.mooseracing.com/ for the latest race updates, gear and accessories.  You can also follow us on Facebook, Twitter and Instagram for the most up-to-date news from Moose Racing.  You can also now search Moose Racing on Pinterest and follow all our boards.
FEATURED PRODUCT
Moose Racing:  Starter Motors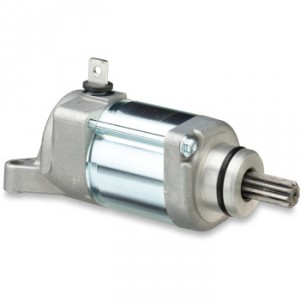 Is there anything more disheartening than having everything prepped for a big ride only to hit your starter button and find your bike is dead?  This is not something that usually occurs in an ideal scenario for you to replace it either, but when it does, take heart in knowing that Moose Racing has you covered.
Moose Racing Starters are the latest edition to our vast offering of hard parts and we offer Replacement Starters for many bikes that fall under the biggest OEM brands.  Made from high quality materials, they provide a price competitive alternative to OEM replacements and you can get them from any accessory shop that buys from Parts Unlimited.  They are direct bolt-on versions so installation is a snap and you can see them all here http://www.mooseracing.com/products/?productGroupId=160740&productId=236389
Upcoming Races
January 31, 2015
AMA Monster Energy Supercross Series – Round 5
Angels' Stadium
Anaheim, CA
More Information http://www.amasupercross.com/
January 31-February 1, 2015
AMSOIL Arenacross Series – Round 4
Bridgestone Arena
Nashville, TN
More Information http://www.arenacross.com/RaceDayLive/
February 1, 2015
Kenda AMA National Enduro Series Presented by Moose Racing – Round 1
Manchester State Forest
Wedgefield, SC
More Information http://www.nationalenduro.com/
Open Houses
January 31, 2015
Sportsman's Corner
1011 S. Phillips St.
Algona, IA
Phone:  (515)295-7591
8:00AM-12:00 Noon
More Information http://www.sportsmanscornerhonda.com/