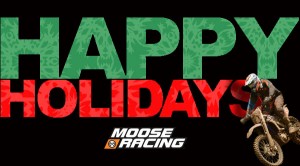 Everyone here at Moose Racing would like to wish all of our followers the happiest of holiday seasons.  Hopefully you get everything on your wish list, but if you don't be assured that many of our dealers will be ready for you with some great post-holiday sales.  Enjoy the season and all it has to offer.
If you are like we are, you are looking forward to the holidays, but you also know that shortly thereafter the Supercross and Arenacross seasons will kick off the 2015 race campaign.  As usual, we will be heavily involved in both series by sponsoring top riders and teams, but will also be on hand with our semi at select rounds.  If you should be so fortunate as to have tickets for the first race in Anaheim on January 3rd, be sure to stop by and see us.  We will have tons of catalogs and stickers to give away along with displays showing our vast product line.
Be sure to stay tuned to http://www.mooseracing.com/ for the latest race updates, gear and accessories.  You can also follow us on Facebook, Twitter and Instagram for the most up-to-date news from Moose Racing.  You can also now search Moose Racing on Pinterest and follow all our boards.
FEATURED PRODUCT
Moose Racing:  Universal Shock Pre-Load Tool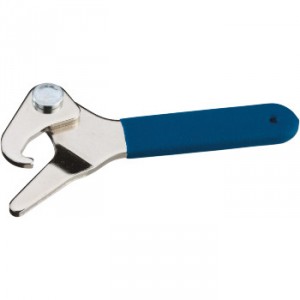 You may find yourself lucky enough to be trail riding during the holidays so you are going to want to be prepared for all conditions.  We all know that our favorite riding areas can change due to weather or perhaps you just decide you are going to take a different route than you are used to.  Having one of our packs ready with all the Moose Racing tools you need to encounter any changes is always a good idea.
One of the tools that you are sure to want to have at arm's reach is our new Universal Shock Pre-Load Tool.  It adjusts pre-load rings and collars for sizes 35mm-75mm.  It has a compact handle that allows it to fit in trail tool bags and you can see exactly what it looks like here http://www.mooseracing.com/products/?productGroupId=145706&productId=221339
Upcoming Races
December 27-28, 2014
Garrahan Off-Road Training Christmas Marathon
7800 Cienega Rd.
Hollister, CA
Starts at 8:00AM
More Information http://garrahanoffroadtraining.com/
Open Houses
December 20, 2014
Middletown Cycles
3711 Commerce Dr.
Franklin, OH
Phone:  (513)422-5471
9:00AM-5:00PM
More Information http://www.middletowncycle.com/
December 20, 2014
Pigger's
240 E. 19th St.
Dubuque, IA
Phone:  (563)513-6655
11:00AM-1:00PM
December 22-24, 2014
Beechmont Motorsports
646 Mt. Moriah Dr.
Cincinnati, OH
Phone:  (513)752-0088
10:00AM-4:00PM
More Information http://www.beechmontms.net/Default.asp
December 23, 2014
Swartzie's Cycle & Speed Shop
504 Elm St.
LaMotte, IA
Phone:  (563)773-8755
8:00AM-5:00PM