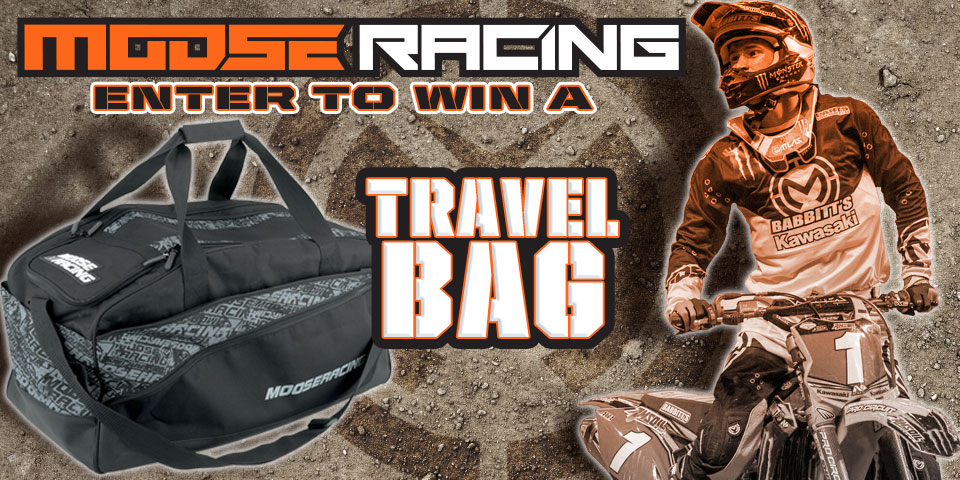 Moose Racing Travel Bag Sweepstakes OFFICIAL RULES
NO PURCHASE NECESSARY. PURCHASES DO NOT INCREASE YOUR CHANCES OF WINNING. ODDS DEPEND ON NUMBER OF ENTRIES RECEIVED. VOID WHERE PROHIBITED.
1. SWEEPSTAKES AND SPONSOR: Participation in the Moose Racing Travel Bag Sweepstakes (the "Sweepstakes") constitutes entrant's (each a "Participant") full and unconditional agreement to these Official Rules. The Sponsor is Moose Racing, a division of LeMans Corporation, with offices at 3501 Kennedy Road, Janesville, WI 53545. All decisions related to, as well as all interpretation of, these Official Rules by Sponsor shall be final and binding. The Sweepstakes is subject to all applicable federal, state and local laws and regulations. This Sweepstakes is in no way sponsored, endorsed or administered by, or associated with Instagram, Facebook or Twitter.
2. ELIGIBILITY: This Sweepstakes is open to legal residents of the 50 United States, including the District of Columbia, age 18 and older at the time of entry. Employees of Sponsor, any organization responsible for sponsoring, fulfilling, administering the Sweepstakes or supplying the prizes and each of their respective parent, subsidiary, related and affiliated companies, as well as the immediate family and household members of all such individuals are not eligible to enter or win. "Immediate family members" shall mean parents, stepparents, children, stepchildren, siblings, stepsiblings or spouses, regardless of where they live. "Household members" shall mean people who share the same residence at least three (3) months a year, whether related or not. This Sweepstakes is void where prohibited or restricted by law.
3. HOW TO ENTER THE SWEEPSTAKES: There is no purchase necessary to participate in the Sweepstakes. A purchase does not increase the Participant's chances of winning. To enter, a Participant must go to the Giveaway sign up page on the Moose Racing website, www.mooseracing.com, fill out all entry fields on the entry form and submit. All eligible submissions will be entered into the drawing (each an "Entry"). All Entries become the property of Sponsor and will not be acknowledged or returned.
The Sweepstakes Entry Period will begin at 12:01 a.m. CDT on June 12, 2017 and end at 12:00 p.m. CDT on June 26, 2017.
Limit one entry per person. Any Entry or portion thereof that is, in the Sponsor's sole discretion, inconsistent with these Official Rules below will not be accepted as an Entry, and Sponsor may disqualify the Participant from further participation in the Sweepstakes.
BY PARTICIPATING IN THIS SWEEPSTAKES, YOU ARE INDICATING THAT YOU HAVE REASD, UNDERSTOOD AND FULLY AGREE TO THESE OFFICIAL RULES. DO NOT PARTICIPATE IN THIS SWEEPSTAKES WITHOUT FIRST REVIEWING THESE OFFICIAL RULES.
4. CONDITIONS AND LIMITATIONS OF LIABILITY: Use of any automatic means to enter the SWEEPSTAKES is prohibited. Any attempt by any Participant to obtain more than the stated number of entries by using multiple/different email addresses, identities, registrations and logins, or any other methods may be disqualified.
5. USAGE CHARGES: Normal Internet access and usage charges imposed by Participant's Internet Service Provider ("ISP") may apply. If Participant makes or receives posts on Participant's mobile phone, standard data usage or messaging rates will apply.
By participating, each Participant agrees: (a) to be bound by these Official Rules and the decisions of Sponsor, which shall be final in all respects; and (b) to release, discharge and hold harmless the Sponsor and each of their respective advertising and promotion agencies and prize suppliers, each of the foregoing entities' respective parent, subsidiary, related, affiliated and successor companies, and each of their respective officers, directors, agents, representatives and employees (collectively, the "Released Parties") from any and all actions, claims, injury, loss or damage, including, without limitation, death and bodily injury, arising in any manner, directly or indirectly, in whole or in part, from participation in this Sweepstakes or any Sweepstakes-related activity, and/or from Participant's acceptance, receipt, use or misuse of any prize or component thereof (including without limitation, any failure to pay taxes thereon).
By accepting a prize, winner grants Sponsor and its designees permission to use his/her name, voice, likeness, photograph, prize information, biographical data and city and state of residence on a winners' list (if applicable) and for programming, publicity and promotional purposes, worldwide in all forms of media now known or hereafter developed, in perpetuity, without further compensation unless prohibited by law. Sponsor and its designees are not obligated to use any of the above mentioned information or materials, but may do so and may edit such information or materials, at Sponsor's sole discretion,
without further obligation or compensation. Sweepstakes subject to the laws of the United States only. All federal, state and local laws and regulations apply. All entries become the property of Sponsor and will not be acknowledged.
The Released Parties are not responsible for technical, hardware, software or telephone malfunctions of any kind, lost or unavailable network connections, or failed, incorrect, incomplete, inaccurate, garbled or delayed posts or other electronic communications caused by the Participant or by any of the equipment or programming associated with or utilized in the Sweepstakes by Sponsor, or by any human error which may occur in the processing of the Entries in the Sweepstakes or for any liability for damage to any computer system resulting from participation in, accessing or downloading information in connection with the Sweepstakes. In the event of a dispute as to any Participant, the authorized account holder of the email address used to register will be deemed to be the Participant. Potential winners may be required to show proof of being the authorized account holder of the email address associated with the entry.
Proof of entering information on www.mooseracing.com does not constitute proof of delivery or receipt of such information. The Released Parties are not responsible for the failure of any posts to be received by Sponsor including without limitation, whether or not on account of technical problems or congestion on the Internet or at the entry site. Sponsor reserves the right at its sole discretion to disqualify any individual that tampers or attempts to tamper with the entry process or the operation of the Sweepstakes; violates the Official Rules; or acts in an unsportsmanlike or disruptive manner, or with intent to annoy, abuse, threaten or harass any other person. Any attempt by any person to deliberately undermine the legitimate operation of the Sweepstakes may be a violation of criminal and civil law, and should such an attempt be made, Sponsor reserves the right to seek damages from any such person to the fullest extent permitted by law. Sponsor's failure to enforce any term of these Official Rules shall not constitute a waiver of that provision.
6. WINNER VERIFICATION AND NOTIFICATION: One (1) potential prize winner will be selected in a random drawing, on or shortly after the end the Entry Period from all eligible Entries properly submitted and received under these Rules. A Participant who is randomly selected (a "Potential Winner") is not a winner of any prize, even if notified of being a Potential Winner, unless and until the Potential Winner's eligibility has been verified. Sponsor may in its sole discretion announce the names of the winners or Potential Winners on its website, Facebook, Twitter and/or Instagram feed, or in other forms of communication, provided, however, that no Potential Winner shall be certified as a winner until the Potential Winner has executed and returned any required documents, as determined by Sponsor in its sole discretion, such as a verification of eligibility and identity and any liability or publicity release. If a Potential Winner is under the age of eighteen (18), he or she will be disqualified and the prize will be awarded to an alternate winner. If a Potential Winner fails to respond to any notification attempt or return verification documents within the time period specified by Sponsor, or if any attempted notification or prize delivery is returned as undeliverable, or an undeliverable or other error message is received by Sponsor from the Participant's ISP – even if sent by the ISP in error and even if the notice is actually received thereafter – the Potential Winner will be disqualified and forfeit his/her prize. All decisions of Sponsor shall be binding and final. Limit one (1) prize per Participant. Additional restrictions may apply.
7. PRIZE AND APPROXIMATE RETAIL VALUES ("ARV"): Prize winner ("Prize Winner") will receive a Moose Racing Travel Bag GPM Part #3512-0139 (suggested retail value is $56.95)
Federal, state and local taxes are the sole responsibility of the winners. Prize Winner might receive an IRS Form 1099 reflecting the final actual value of the prize and will be required to submit a validly executed IRS Form W-9 to claim prize.
Prize Winner is not entitled to exchange or transfer prizes or to obtain cash or other substitutes, but Sponsor in its sole discretion may substitute prizes of equal or greater value.
SPONSOR MAKES NO WARRANTY, REPRESENTATION OR GUARANTEE, EXPRESS OR IMPLIED, IN FACT OR IN LAW, RELATIVE TO THE USE OF ANY PRIZE COMPONENT, INCLUDING WITHOUT LIMITATION, ITS QUALITY, MERCHANTABILITY OR FITNESS FOR A PARTICULAR PURPOSE.
8. SUSPENSION: Sponsor reserves the right to cancel, suspend and/or modify the Sweepstakes, or any part of it, if any fraud, technical failure or other factor beyond Sponsor's reasonable control impairs Sponsor's ability to properly conduct the Sweepstakes, as determined by Sponsor in its sole discretion. In such event, Sponsor reserves the right to award the prizes at random from among the eligible Entries received up to the time of the cancellation of the Entry Period. Sponsor reserves the right in its sole discretion to disqualify any individual it finds to be in violation of these Official Rules, including without limitation any person tampering with the entry process, the operation of the website or the Sweepstakes, or is otherwise in violation of the rules.
9. DISPUTES: This Sweepstakes is governed by the laws of the United States and the State of Wisconsin, without respect to conflict of law doctrines. As a condition of participating in this Sweepstakes, Participants agree that any and all disputes which cannot be resolved between the parties, and causes of action arising out of or in connection with this Sweepstakes, shall be resolved individually, without resort to any form of class action, exclusively before a court located in Wisconsin having jurisdiction. Further, in any such dispute, under no circumstances will Participants be permitted to obtain awards for, and hereby waive all rights to claim punitive, incidental or consequential damages, including attorneys' fees, other than Participant's actual out-of-pocket expenses (e.g. costs associated with entering), and Participant further waives all rights to have damages multiplied or increased.
10. RULES/WINNERS' LIST: For name of the winner or an additional copy of these Official Rules, send a self-addressed envelope to: Moose Racing Sweepstakes, P.O. Box 5222, Janesville, WI 53547-5222