The fall season usually sees a slowdown in the national racing scene as series start to wind down, but this weekend things are ramping up pretty big as a number of prominent series are running events across the nation. Our factory semi is taking the weekend off, but we'll have personnel onsite at the Monster Cup Supercross event in Las Vegas, NV. Moose Racing will be represented there by our Babbitt's Kawasaki Team and rider Jacob Hayes. The unique three-race format affords all the riders a chance to make big money and Hayes is hoping the track suits his riding style.
The AMA Endurocross Series heads to the Pacific Northwest and the XFINITY Arena in Everett, WA. Moose Racing has been a proud sponsor of this series since it all got started and we will be well represented on and off the track.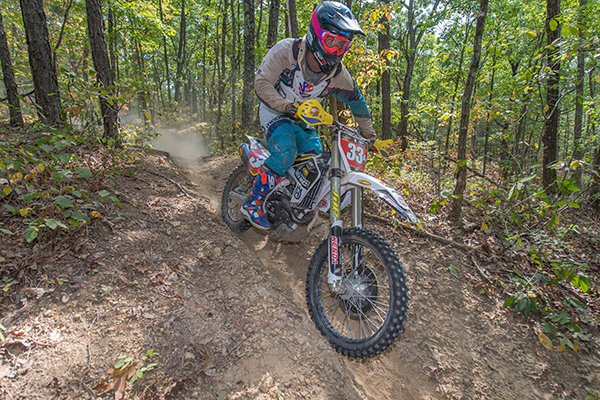 Finally, our biggest contingent of riders will be at the Zink Ranch in Oklahoma for Round 8 of the National Enduro Series. Historians of offroad racing will fondly remember the Zink Ranch as the venue where Team USA hosted the ISDE in the mid-90's. KR4 Arrive-N-Ride Husqvarna Racing's Grant Baylor has been on a bit of a hot streak lately visiting the podium on numerous occasions. He'll be challenged by a full stable of the best riders including Beta USA's Jordan Ashburn who will be looking for his own spot on top of the box and Nick Fahringer who is fresh off a win at the Mad Moose Enduro in Marquette, MI. The action is sure to be intense throughout the entire day.
Want to be part of Team Moose Racing? Resume information here: http://www.mooseracing.com/rider/sponsorship/
Be sure to stay tuned to http://www.mooseracing.com/ for the latest race updates, gear and accessories. You can also follow us on Facebook, Twitter and Instagram for the most up-to-date news from Moose Racing.
Upcoming Races
Oct. 14, 2017
AMA Monster Energy Cup Supercross
Sam Boyd Stadium
Las Vegas, NV
More Information http://www.supercrosslive.com/
Oct. 14, 2017
AMA Endurocross Series Presented by Moose Racing – Round 4
XFINITY Arena
Everett, WA
More Information www.endurocross.com
Oct. 14 – 15, 2017
National Dual Sport Series
Buffalo 500 National Dual Sport
Stoney Lonesome Motorcycle Club
Columbus, IN
More Information https://www.usdualsports.com/2012/07/2014-buffaloe-500-dual-sport.html
Oct. 14 – 15, 2017
Iowa ATV Hare Scramble Series "Blue Ridge Run"
18999 Blue Place Rd
Carlisle, IA
Starts at 3:30PM
More Information www.iatvhss.com
Oct. 15, 2017
Kenda AMA National Enduro Series Presented by Moose Racing – Round 8
Zink Ranch National Enduro
Sand Springs, OK
www.nationalenduro.com
Oct. 15, 2017
Bushkill Valley Motorcycle Club Dist. 6 Hare Scramble
2248 Riverside Dr
Bethlehem, PA
More Information www.race4areason.wix.com/race4areason
Open Houses
Oct. 13 – 14, 2017
Northeast ATV Sales
3226 Elimira St
Sayre, PA
Phone: 570-882-7501
More Information www.neatvsales.com
Friday: 8:00 AM – 6:00 PM
Saturday: 8:00 AM – 3:00 PM
Oct. 13 – 14, 2017
Midwest Motorsports
3699 Prism Ln
Kieler, WI
Phone: 608-568-3600
Friday: 8:00 AM – 6:00 PM
Saturday: 8:30 AM – 3:00 PM
More Information https://midwestmotorsportsonline.com/