The Moose Racing Semi heads to St Clairsville, Ohio for the Powerline GNCC.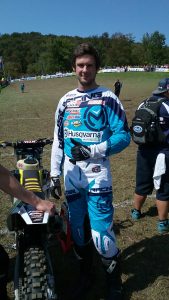 (Jesper Borjesson)
Moose Racing pro riders Tayla Jones; Grant Baylor; Hunter Neuwirth and Jesper Borjesson aboard the Rocky Mountain ATV*MC/KR4/Husqvarna Team will be competing for top honors on the podium along with Team Beta's Jordan Ashburn and Team Sherco's  Nick Fahringer. Adam McGill will be looking to break his streak of bad luck and get back to his winning ways.
Mud is always a factor at Powerline Park, as the course runs across fire roads that pack up and hold water. The topsoil is clay, but it gives way to a rocky base soil, and there are some rock piles around too. The mud isn't as slippery to your tires or as sticky on your machine as it is in Southern Ohio (like the John Penton), which is a welcome relief.
The most famous obstacles here are two different mud holes located on two different sections of the course. The Powerline Mud hole is the most popular and spectacular where riders have the option of jumping over a section of mud, or taking the easier (but longer) way around. The Powerline Mud hole always has a large group of mud fleas ready to pull you out of the mud if you do get stuck. There's also Gus's Mud hole which has a hard bottom that you won't get stuck in, but the water is deep and hard to pick the perfect line. These, along with the hills, rocks, roots and more add a bit of a challenge to the Powerline Park course.
Want to be part of Team Moose Racing?  Resume information here:  http://www.mooseracing.com/rider/sponsorship/
Be sure to stay tuned to  http://www.mooseracing.com/ for the latest race updates, gear and accessories.  You can also follow us on Facebook, Twitter and Instagram for the most up-to-date news from Moose Racing.
Upcoming Races
Oct. 6 – 8, 2017
Shenandoah 500 AMA Dual Sport / Adventure Ride
VA
Oct. 6 – 8, 2017
WORCS
Adelanto Stadium
Adelanto, CA
www.worcsracing.com
GNCC
Powerline Park
St Clairsville, OH
Oct. 7 – 8, 2017
West "Donner" Hare Scramble
19320 Donner Pass Rd
Norden, CA
Starts @ 8:00 AM
www.garrahanoffroadtraining.com
Oct. 8, 2017
Iowa City Competition Riders "2017 Atalissa Hare Scramble"
Atalissa, IA
Starts @ 10:00 AM
www.iera22.com
Open Houses
Oct. 7, 2017
Faultine Powersports "Red Sticker Ride Day"
7804 Cienega Rd
Hollister, CA
Phone:  831-637-9780
Starts @ 9:00 AM
Oct. 7, 2017
Badlands Offroad
3968 N Xavier Rd
Attica, IN
Phone:  765-762-2981
9:00 AM – 5:00 PM
Oct. 7, 2017
Attica Motorsports
3962 N Xavier Rd
Attica, IN
Phone:  765-762-2602
9:00 AM – 5:00 PM
Oct. 7, 2017
Full Throttle
2098 18 ¾ S
Rice Lake, WI
Phone:  715-736-9494
9:00 AM – 3:00 PM
Oct. 7, 2017
All Around Performance "Demo Ride Party"
11751 Rt. 98
Freedom, NY
Phone:  716-492-2621
10:00 AM – 2:00 PM