(Jordan Ashburn)
This weekend the Moose Racing semi & support crew will be at the Unadilla GNCC.  Make sure to stop by to grab a catalog & see our new 2018 gear.
Moose Racing riders Jordan Ashburn, Grant Baylor, Adam McGill will be racing for podium positions.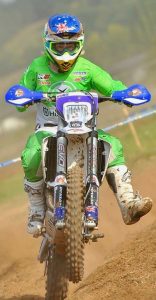 (Tayla Jones)
Tayla Jones will be in action hot off a winning streak at the ISDE 6-Day event where she was part of the winning Australian team.
The event is one of the highlights on the calendar with the Motocross circuit being part of a lap of this grueling GNCC course.
Want to be part of Team Moose Racing?  Resume information here:  http://www.mooseracing.com/rider/sponsorship/
Be sure to stay tuned to  http://www.mooseracing.com/ for the latest race updates, gear and accessories.  You can also follow us on Facebook, Twitter and Instagram for the most up-to-date news from Moose Racing.
Upcoming Races
Sept. 8 – 10, 2017
WORCS
Glen Helen Raceway
Devore, CA
Sept. 9 – 10, 2017
GNCC
"Parts Unlimited Unadilla"
Unadilla MX
New Berlin NY
Sept. 9 – 10, 2017
National Dual Sport Series
LBL 200 National Dual Sport
K T Riders
Golden Pond, KY
Sept. 9 – 10, 2017
National Dual Sport Riders
Baby Burr Dual Sport
Enduro Riders Assoc.
McArthur, OH
Sept. 9 – 10, 2017
Rapid Angels Motocycle Club "Dist. 16 GP & Hare Scramble"
Nekoosa, WI
Starts @ 9:00 AM
Sept. 9 – 10, 2017
Dist. 6 Road and Trail Club "R&T Charity Trail Ride"
Boyer Farm
Romney, WV
Starts @ 8:00 AM
Sept. 10, 2017
Eastern Racing Offroad Championship "The Moose Cup"
Moto X Country
Pine Lake
Sept. 10, 2017
Des Moines Enduro Riders IERA22 "The Chief's Run" Hare Scramble
N41 16.37.41 W93 11.53.41
Starts @ 7:00 AM
www.iera22.com
Open Houses
Sept. 9, 2017
Cycle City
5600 Hwy 63 S
Rochester, MN
Phone:  507-288-1084
9:00 AM – 3:00 PM
www.cyclecityrochester.com