Round 6 of the AMA National Enduro Series Presented by Moose Racing took place in Matthews, IN over the weekend and KR4 Arrive-N-Ride Husqvarna's Grant Baylor narrowly missed the win, but still ended up with an impressive podium finish.  It was Baylor's second trip of the season to the big box after winning Round 2 in Florida earlier in the season.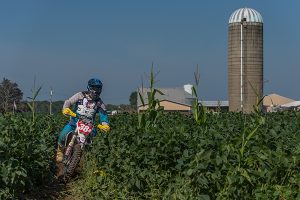 (Grant Baylor)
Baylor was battling with the leaders after a slow start and entered the final test roughly 35 seconds off the top spot.  That is when he put the hammer down.  He had not had a crash all day, but about a mile from the finish he had a tip-over which cost him about five seconds.  He re-mounted and ended up losing the second place spot by only a second.
The opening round of the AMA Endurocross season started at the Orleans Arena in Las Vegas, NV this past Saturday night.  The Orleans is where the series first got started and it ended up being a great place for Moose Racing's Tayla Jones to make her debut in the race format which is known for swallowing up the toughest riders.
Jones had a great night going and was battling with the leaders all the way up until the last lap where a crash took her out of the lead.  She ended up getting passed by two riders, but got back on her bike and managed to pull out the final spot on the podium in 3rd.  The Women's Class sent out a strong field of riders and the championship looks to be an exciting battle all the way.  The riders will get some rest now until the next round in Reno, NV on September 23rd.
Moose Racing's Phil Nicoletti made his second start of the season at the GEICO Motorcycle Insurance Budds Creek National in Mechanicsville, MD.  Phil has been getting back used to riding again and battled a strong 450 Class all day.  When the checkers flew, Nicoletti would find himself in 13th place overall after moto finishes of 14 and 12.
Be sure to stay tuned to http://www.mooseracing.com/ for the latest race updates, gear and accessories.  You can also follow us on Facebook, Twitter and Instagram for the most up-to-date news from Moose Racing.  You can also now search Moose Racing on Pinterest and follow all our boards.