It was a light weekend of racing action this past Saturday and Sunday, but as has been the case at so many offroad races this year, the weather was the dominant force at the Rattlesnake National Enduro in Cross Fork, PA. Heavy rains hit the area on Saturday and that made for more than interesting conditions when Sunday's action kicked off.
The KR4 Husqvarna Arrive-N-Ride Team was out in full force once again with a full stable of riders representing multiple classes. Leading the charge was Grant Baylor who was coming off a win at the recent John Penton GNCC. Unfortunately, Baylor struggled in the wet conditions and had to settle for an 8th place overall finish. Team Beta USA's Drew Higgins had one of his best races of the season while battling with a host of other riders ending up finally cracking the top 20 in 15th place overall.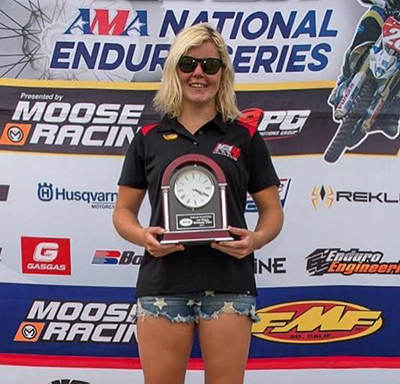 The dominance of Tayla Jones continues to be a sight to behold. She was once again flawless and piloted her Husqvarna to a Women's overall class win. Jones is obviously no stranger to winning in 2017, but the fact that she took this victory by over a 25 minute margin is what was so impressive.
Be sure to stay tuned to http://www.mooseracing.com/ for the latest race updates, gear and accessories. You can also follow us on Facebook, Twitter and Instagram for the most up-to-date news from Moose Racing. You can also now search Moose Racing on Pinterest and follow all our boards.