With August 1st right around the corner, things are really starting to heat up here at Moose Racing.  It's an exciting time of year for us because our new gear will be releasing to the world next Tuesday.  Sahara, M1 and Qualifier gear have all been updated with great looking styles and new colorways to choose from.  The best part is that the quality is still there as well as all the features you have come to expect from us.  We will follow up the release with our 2018 catalog that you can get at your locally authorized Parts Unlimited dealer in a couple of weeks or view on the website.
Our factory race support semi is already on the road again and headed for its annual trip to the Rocky Mountain ATV/MC AMA Amateur National Motocross Championships.  These races are held every year at Loretta Lynn's Ranch in Hurricane Mills, TN and are the culmination of months of hard work by riders and their families from across the nation.  We always have a prime spot on the track near the start/finish line so be sure to stop by and see us.  As usual, we'll be showing our vast product line along with giving away free catalogs, stickers and even some larger prizes to those lucky enough to win.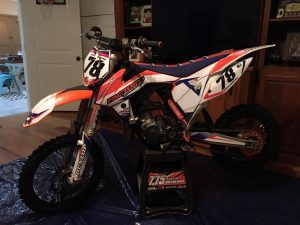 (Austin Bradford's bike is ready)
Like other industry brands, we'll be there scouting new riders who might be looking to join our family in 2018.  We'll also be providing support to current riders who made the show including a couple of 85cc riders in the 9-12 Class.  Austin Bradford and Wyatt Mattson will be proudly representing Moose Racing and we wish both of them the best of luck.
Be sure to stay tuned to http://www.mooseracing.com/ for the latest race updates, gear and accessories.  You can also follow us on Facebook, Twitter and Instagram for the most up-to-date news from Moose Racing.  You can also now search Moose Racing on Pinterest and follow all our boards.
Upcoming Races
July 29, 2017
Lucas Oil Pro Motocross Championship Series – Round 9
Peterson CAT Washougal National
Washougal, WA
More Information http://www.promotocross.com/mx/home
July 28-August 5, 2017
Rocky Mountain ATV/MC AMA Amateur National Motocross Championships
Loretta Lynn's Ranch
Hurricane Mills, TN
More Information https://mxsports.com/welcome
July 27-30, 2017
AHRMA (American Historic Racing Motorcycle Association)
"McKee Sky Ranch AHRMA Offroad National"
70 McKee's Sky Ranch Rd.
Terra Alta, WV
Starts at 8:00AM
More Information http://www.ahrma.org/
August 2-6, 2017
Good Intent Hose Company "ATV Run"
12 Silverton Rd.
Llewellyn, PA
More Information http://llewellynhose.com/
Open Houses
July 29, 2017
Track & Trail Powersports, Inc. "Grand Opening"
665 W. Connection Way
Columbia City, IN
Phone:  (260)248-8522
9:00AM-2:00PM
More Information http://www.tracktrailpowersports.com/