As the GNCC goes on its summer break, the NEPG Series picks back up with Round 6. The Rattlesnake National Enduro in Cross Fork, PA will be held this weekend at the Quiet Oaks Campground. The KR4 Husqvarna Team will be at the event to test the course. Cross Fork is a an old mining town located in the Susquehannock State Forest and has lots of rocks to test the riders on Sunday.
Grant Baylor is looking for his second NEPG win of the season and is a great
rider in the rocks and the Rattlesnake is one of his favorite races on the circuit.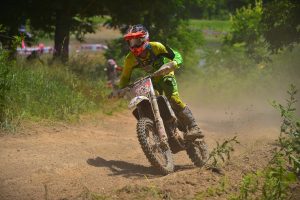 Tayla Jones continues to dominate every race she enters and she has been testing and riding to prepare for the rocky terrain in Northern PA, we look for her to having another great race.
Make sure to stop by the Moose Racing semi.
Team Beta's Jordan Ashburn is coming off a win at the Sprint Enduro and is looking to claim another win.
Be sure to stay tuned to  http://www.mooseracing.com/ for the latest race updates, gear and accessories.  You can also follow us on Facebook, Twitter and Instagram for the most up-to-date news from Moose Racing.
Upcoming Races
July 22 – 23, 2017
National Enduro
Cross Fork, PA
July 22, 2017
Lucas Oil Pro Motocross
Spring Creek National
Millville, MN
July 23, 2017
Eastern Racing Offroad Championship "The Moose Cup" Hare Scramble
Broken Spokes Barbanger
July 17 – 22, 2017
Bike Days "Napolean H-D Wauseon National Classic Flat Track Race"
8514 SR 108
Wauseon, OH
Gates open @ 10:00 AM
www.bikedays.com
Open Houses
July 21 – 22, 2017
George Vetesnik Powersports "Rendezvous"
27475 US Hwy 14
Richland Center, WI
Phone:  608-647-8808
Friday:  9:00 AM – 6:00 PM
Saturday:  9:00 AM – 3:00 PM
July 22, 2017
Vaith Cycle
104 E Main St
Racine, MN
Phone:  507-378-2266
9:00 AM – 4:00 PM
July 22, 2017
JPM Performance Powersports
5376 Fort Campbell Blvd
Hopkinsville, KY
Phone:  270-885-5200
9:00 AM – 4:00 PM
July 22, 2017
Crossroads Motorsports
3995 State Road 38E
Lafayette, IN
Phone:  765-532-8391
8:00 AM – 4:00 PM