(Adam McGill)
The 4th of July holiday is now behind us and many of the national race series are settling in for the summer stretch which will go a long way in determining coveted 2017 championships.  The coming weekend is full of events all over the nation and Moose Racing is proud to be in the thick of it.  Our semi will be headed to Ohio for a make-up date on the GNCC schedule.  This event was rained out earlier and will provide us with the opportunity to reach fans when this series would normally be on its summer break.
The ATVs will kick off the action on Saturday where we'll have three riders in the Top 10 overall Pro standings that will be looking to showcase their skills and move up the leaderboard.  The trio of Hondas will be led by Adam McGill who sits in 2nd.  Joining him in the top five is Jarrod McClure who is in 5th, but is only a mere nine points out of 4th and 12 points from claiming a top three position.  Rounding out the effort is Marty Christofferson who finds himself in 8th overall.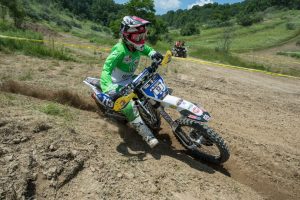 (Tayla Jones)
Sunday's bike race is promises to showcase the same bar-to-bar action we have seen all season.  Jordan Ashburn has his Factory Beta firmly in 6th overall, but is being chased by KR4 Husqvarna's Grant Baylor.  The 28th annual John Penton pays tribute to the legendary pioneer of offroad racing and is the longest running event on the GNCC circuit.  Baylor leads a talented field of KR4 riders and will be looking for his first podium finish of the season.  Joining Baylor in their effort will be Hunter Neuwirth who will battle for a win in the XC3 Class on a TC125 and Tayla Jones who is already closing in on her first GNCC championship.
Moose Racing would also like to take this opportunity to welcome a new rider to our team.  Brooke Cosner is one of the fastest female woods riders out there and has been chasing down numerous titles already this season.  She will be skipping the GNCC Series this weekend where she would normally be battling with Tayla Jones, but is going to concentrate on the Full Gas Sprint Enduro event where she finds herself leading the Women's Pro Class.
Be sure to stay tuned to http://www.mooseracing.com/ for the latest race updates, gear and accessories.  You can also follow us on Facebook, Twitter and Instagram for the most up-to-date news from Moose Racing.  You can also now search Moose Racing on Pinterest and follow all our boards.
FEATURED PRODUCT
Moose Racing:  Bar Ends
Even the best riders can find themselves on the wrong end of a crash and oftentimes the first part of the bike to kiss the earth is your handlebars and grips.  A great way to avoid replacing your grips every time this happens is to install a set of our new Bar Ends.  Made from 6061-T6 aluminum, they are offered with various inserts for different bar end bores and are a great item to replace your aluminum handguards for motocross as well.
They are an excellent upgrade for locking grips and help prevent a throttle from pinning wide open during right side spills.  They work great on bikes, ATVs, snowmobiles and personal watercraft applications and are available in Black, Blue, Orange, Red or Silver.  You can pick up a pair for only $13.95 suggested retail and you can check them out here http://www.mooseracing.com/products/?productId=458659
Upcoming Races
July 8, 2017
Lucas Oil Pro Motocross Championship Series – Round 7
Red Bull Southwick National
Southwick, MA
More Information http://www.promotocross.com/mx/home
July 8-9, 2017
AMSOIL GNCC Series – Round 9
Wiseco John Penton
Millfield, OH
More Information https://gnccracing.com/
July 8-9, 2017
Kenda Full Gas Sprint Enduro Series – Round 5
"The Hillbilly"
Glade Mountain
Rural Retreat, VA
More Information http://www.sprintenduro.com/
July 8, 2017
Valley Springs Motorcycle Club "Dual Sport Ride"
364 N. Maple St.
Ellsworth, WI
Starts at 8:00AM
More Information http://www.valleyspringshillclimb.com/
July 13-16, 2017
GEICO Adventure Rally Series Presented by Moose Racing
"Ride the Rockies"
Gunnison, CO
More Information http://www.advrally.com/
Open Houses
Be sure to stay tuned to these posts for an upcoming dealer open house in your area.