Everyone at Moose Racing would like to wish all of the fathers out there a very special Happy Father's Day!  We hope that you are going to be able to make some time to hit your favorite, local race track for some family action or just get out and do some trail riding with the kids.  As always, thanks for taking Moose Racing along.  The worldwide leader in apparel, parts and accessories sincerely appreciates your business before, during and after the ride.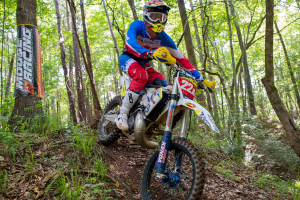 (Tyler Vore – Airgroup Racing)
We haven't even hit the official first day of summer, but some of the national series are already in stride and once again there are a number of events to take in this weekend.  Our semi and race support team is taking a much needed weekend off, but that doesn't mean we won't have riders representing us at various venues.
The Rocky Mountain ATV/MC KR4 Husqvarna Team is headed to Round 4 of the Kenda Full Gas Sprint Enduro Series.  Crow Canyon in Uhrichsville, OH will be hosting the event and features a 400-acre riding facility that includes a full motocross track and a vast trail system that will put any level rider to the test.
Jesper Borjesson continues to excel at this type of format and has the speed to win.  He is currently sitting 5th overall in points and will be looking to break the top three on his FC250.  Tayla Jones loves sprint racing and is winning the 2017 championship so far.  In addition to their pro riders, KR4 will also have a full stable of amateurs on hand in addition to a photographer who will keep us all up to date on the action.
Be sure to stay tuned to  http://www.mooseracing.com/ for the latest race updates, gear and accessories.  You can also follow us on Facebook, Twitter and Instagram for the most up-to-date news from Moose Racing.  You can also now search Moose Racing on Pinterest and follow all our boards.
Upcoming Races
June 17, 2017
Lucas Oil Pro Motocross Championship Series – Round 4
Red Bull High Point National
Mt. Morris, PA
More Information http://www.promotocross.com/mx/home
June 17-18, 2017
Kenda Full Gas Sprint Enduro Series – Round 4
Crow Canyon
Uhrichsville, OH
More Information http://www.sprintenduro.com/
June 16-18, 2017
Rocky Mountain ATV/MC WORCS Championship Series – Round 9
"Summer Festival"
Glen Helen Raceway
Devore, CA
More Information https://worcsracing.com/
June 18, 2017
AMA East Regional Hare Scrambles Championship Series – Round 5
WNYOA Black Sky Hare Scrambles
Colesville, NY
More Information http://wnyoa.net/
June 22-25, 2017
Hodaka Days
City Park
3rd Street
Athena, OR
Starts at 1:00PM
More Information http://hodakadays.org/
Open Houses
June 16-18, 2017
Rich's Cycle Sales
14354 Archer Ave.
Lockport, IL
Phone:  (815)838-8130
9:00AM-6:00PM
More Information http://www.richsyamaha.com/
June 17, 2017
C&D Motorsports
1301 W. Main St.
Robinson, IL
Phone:  (618)544-5555
8:00AM-3:00PM
More Information http://www.cdmotorsports.com/
June 17, 2017
Thomas Honda Kawasaki
365 W. US Hwy. 6
Valparaiso, IN
Phone:  (219)762-7778
9:00AM-4:00PM
More Information http://thomaspowersports.com/