It's another big weekend of racing action for the Moose Racing crew and it includes the annual kick-off to Bike Week festivities in Florida.  Our semi is headed south to the Rodman Plantation in Palatka, FL for Round 2 of the AMSOIL GNCC Series.  Our team will be set up in the pits showcasing our latest products along with handing out free stickers and catalogs to the many fans in attendance.  We'll even have members of our photo crew there taking shots of some of our riders in a "sneak peak" versions of some of the 2018 racewear we'll be introducing this summer.  Keep an eye out for top Pro and amateur riders to see what we have in store for you later in the year.  If you stop by Sunday, March 12 between 10:00 -11:30 AM you'll get a treat to meet country western singer Beau Braswell & get his autograph.  See his "Sideways" video here:  https://www.youtube.com/watch?v=ZHFoqbzr2kg.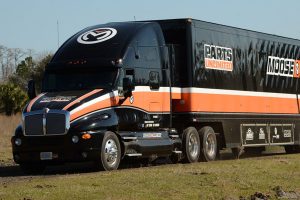 (Jordan Ashburn)
On the track we'll have a number of racers from our teams looking to make some early season noise and improve on last week's results from South Carolina.  The premier XC-1 Pro Bike Class will feature KR4 Husqvarna Racing's Grant Baylor who finished 8th last week along with Factory Beta Racing's Jordan Ashburn who was right behind him in 9th.  Another KR4 rider, Jesper Borjesson ended up 12th in the XC2 Class and will look to move his results into the top 10.  The Women's Class was again dominated by KR4's Tayla Jones so she'll be looking to keep that roll going and Jarrod McClure will also be looking for another podium result in the XC1 ATV Class.
Round 9 of the AMA AMSOIL Arenacross Series moves to New Orleans, LA this weekend where the Babbitt's Monster Energy Kawasaki Team will be looking for more consistent results in their championship quest.  The Smoothie King Center is the host site and is sure to provide some exciting action.  Last weekend provided a two-night race format which saw Babbitt's riders take three of the top 10 positons including Gavin Faith (3rd), Travis Sewell (5th) and Gared Steinke (7th).  Jacob Williamson was just outside of the top 10 in 11th.  Ryan Breece was Friday night's star in the AX Lites West Class taking the overall win after posting the fastest qualifying time.
When Saturday night's program rolled around, Steinke would lead the team just off the podium in 4th.  Faith dropped a few spots to 6th, Sewell was right behind him in 7th and Jacob Williamson rounded out the team's effort in 9th.  Breece followed up his Friday night win with another Lites podium in 3rd.  Babbitt's riders are no strangers to top success in Arenacross so look for them to get back to top form in New Orleans.
Be sure to stay tuned to  http://www.mooseracing.com/ for the latest race updates, gear and accessories.  You can also follow us on Facebook, Twitter and Instagram for the most up-to-date news from Moose Racing.  You can also now search Moose Racing on Pinterest and follow all our boards.
Upcoming Races
March 10-12, 2017
AMSOIL GNCC Series – Round 2
"Moose Racing Wild Boar"
Rodman Plantation
Palatka, FL
More Information http://gnccracing.com/
March 11-12, 2017
AMA AMSOIL Arenacross Series – Round 9
Smoothie King Center
New Orleans, LA
More Information http://www.arenacross.com/
March 10-12, 2017
Rocky Mountain ATV/MC WORCS Series – Rounds 4 & 5
Crazy Horse Campground
Lake Havasu City, AZ
More Information https://worcsracing.com/
March 11, 2017
Iowa City Competition Riders (I.C.C.R.) "2017 Keithsburg Hare Scramble"
Keithsburg, IL
GPS-41.034985-90.901343
Starts at 10:00AM
More Information http://iera22.com/
Open Houses
March 14, 2017
Farmer's Store
719 Ridge Rd.
Mineral Point, WI
(608)987-3331
7:30AM-5:00PM
More Information http://www.farmersimp.net/default.htm