If there is one race on the calendar everybody is excited about, it must be the Argentinian GP. Located in the beautiful landscape of Patagonia both track and the surroundings are astonishing and a pleasure to be around.  
After the rough Indonesian track the riders got a fast and spectacular, but difficult track this time.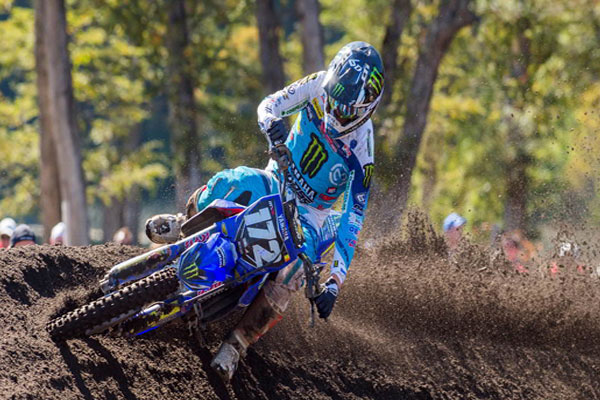 In the first free practice on Saturday Alvin was getting a good feeling on the track when a rider crashed in front of him. He had a bad crash himself and hit his head and shoulder hard. Examination showed no major injuries but the team decided it would be better to take no risks and sit this race out. 
In the qualification Brent had a strong race finishing fifth. Benoit had a bad start and was only 25th crossing the finish line for the first time. In his rush to the front he made another mistake but in the end the French rider managed to come back strong to finish 11th.
Thousands of fans witnessed a thrilling first MX2 moto on Sunday with a great fight for second place. After a good start Paturel soon moved to second making some good passes. Once he got there he tried to close the gap with Jonass but he couldn't get within striking distance. Brent too had a decent start and was just outside the top 10 in the early stages of the race. Riding a strong pace he worked his way up to 7th. 
In the second moto Paturel had a horrible start. He was 27th at the first timing point and immediately started charging hard. After 7 laps he was riding in 11th picking up rider after rider, but made a mistake and lost some places again. He did not give up though and battled back to 9th. This brings Paturel in 4th position overall. He loses one spot in the championship standings and is now third 6 points behind the leader. 
Brent had another solid start and finished 6th after a good race. He gets 7th overall but moves up to 6th now in the championship standings.
Benoit Paturel: " The first race was good. I had a decent start and managed to get to second pretty fast. In the start of the second moto I touched with another rider and got off the track. Initially I was coming back good but then I crashed and lost a couple of positions again. I left it all on the track and still finished ninth getting some valuable points. The speed was there but it could have much better in the second moto. I'm looking forward to Mexico now where I got on the podium two years ago." 
Brent Vandoninck: " I'm happy about my weekend. Despite being a little sick I had two regular races and starts. I'm a little disappointed as I'm only 7th overall, I thought I would be closer to the top 5 with these results. After last year I need to build the confidence again riding with the top guys. I felt a little nervous riding with the top 5 but I need these races to used to it again. I need to get the flow from during the week in the races but I feel we're improving step by step."
Alvin Ostlund: " It's an unfortunate situation… Someone crashed in front of me and I landed on his bike… My acromion in my shoulder moved a bit and the doctor told me to rest now. It could have been worse but I don't like to see the races from the side. I will do anything to let the shoulder heal as soon as possible now. I have no idea yet how long I will be out but we will see if Mexico is possible…"