For the second GP of the season the whole MXGP family set sail to Pangkal Pinang in Indonesia. Everybody was excited to discover this new location and the new track on the calendar. As the local people were very excited for the MXGP race, showed their hospitality and culture to riders and teams this place was looking perfect for the weekend. The only breaker still left was the rain, and in the end the rain did influence the weekend a lot.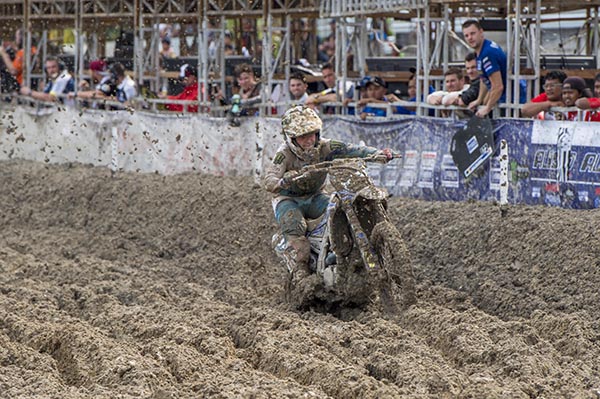 Tropical rain showers turned the track into a mud bath and on Saturday it was soon clear a full program would not be possible in these conditions. Although the track was drying pretty fast after the rain there would be too many deep and sticky ruts. Therefor the results from the first free practice were taken as start positions for Sunday and the rest of the program got cancelled. 
In this practice Benoit Paturel was the fastest KEMEA rider in 6th position. Brent got an 11th time and Alvin 12th. 
In somehow dry and good conditions the first moto started. Only a couple of spots on the track were really soft and sticky. Brent had the best start of the three riders and managed to survive the track and climb from 8th to 4th position. Alvin was right behind Brent in the early stages and was riding in 7th position after 10 laps when suddenly he got stuck in one of the deep mud parts and could not continue. He got classified 23rd. Paturel had a bad start and was out of the top 15. Steadily he started moving up and finished a strong 5th in the end, scoring important points in the championship.
Rain between the races and the first MXGP moto completely changed the track for the second moto. Some parts were taken out of the course but still it was a struggle. For Benoit the race started dramatically as he clipped the gate and entered the first corner in very last position. He got through the first lap well and showed a blitzing speed. In no time he moved up to second and seemed on his way a strong finish and the red plate when on lap 8 his clutch got burned up and couldn't continue the race anymore. As the conditions got too bad and dangerous the race got red flagged and Benoit was still classified in 11th. Brent and Alvin got a midpack start and were riding in the top 10 in the early stages. Both of them dropped back after getting stuck . Alvin kept struggling and finished 23rd while Brent moved back up to 13th after being 30th at one point.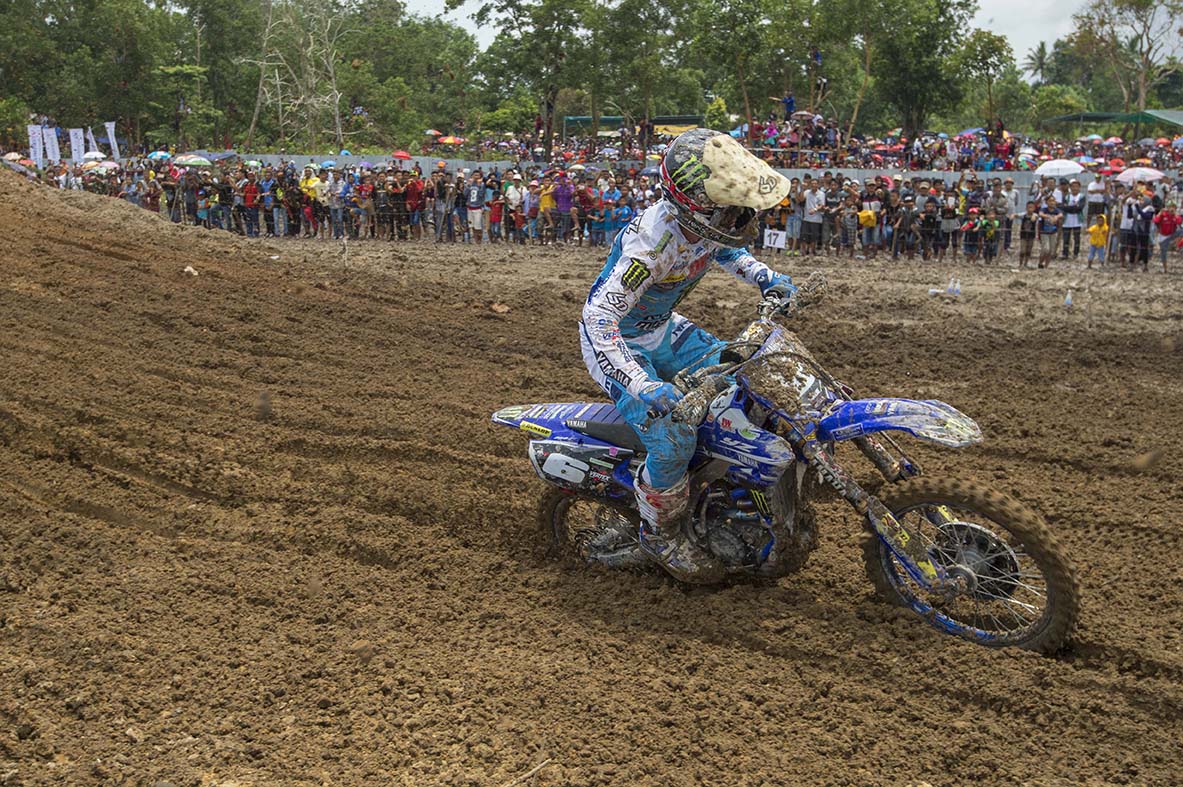 Paturel finished 7th overall scoring 26 points, he is now third in the championship 8 points behind the leader Julien Lieber. Brent got 8th with equal points and moves to 7th in the standings. Alvin scored no points and is 18th now in the championship after two rounds. 
Benoit Paturel: " I'm disappointed with the results… Looking at the conditions this is not too bad but  it could have been way better. In the first moto I was not happy with my riding but still finished 5th after a bad start. In the second moto I touched the gate at the start but got in a good rhythm moving to second. It looked good until my clutch dropped 2 laps before the red flag. Now back home to train hard before the next GP in Argentina!"
Brent Vandoninck: " What a race… In the first moto I had a good pace, made some mistakes but managed to keep calm. I was happy with fourth and hoped to do the same in the second moto, but the conditions were even harder. I'm happy to get away safe here and moving to 7th in the championship. Thanks to my mechanic for his huge efforts in these conditions, up to Argentina now!"
Alvin Ostlund: " There's not much to say about this weekend. I'm disappointed to leave Indonesia without points but let's keep the heads up and move on to Argentina!"