After a successful swing through the west coast, the AMA Monster Energy Supercross Series moves to the Lone Star State this Saturday night and settles in at the mammoth AT&T Stadium in Arlington, TX for Round 6 of the 2017 campaign.  Fresh off a top five finish in Oakland, Moose Racing's Phil Nicoletti is looking to continue to move further up the points standings.  Phil is currently sitting in 8th overall for the West Coast 250SX title and the JGR Yoshimura Suzuki rider will be looking to make some more noise as the series progresses and we get closer to starting the east coast rounds in Minneapolis next weekend.
Our factory semi will be on hand in Arlington so if you are lucky enough to be attending this round, please stop by and see us.  We will have reps on hand to answer any questions you have about our vast product offering along with handing out stickers and our latest catalogs.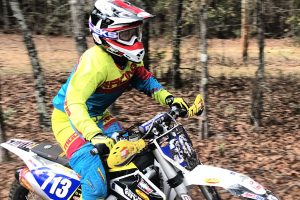 Round 1 of the Kenda Full Gas Sprint Enduro Series is set to kick off this weekend in Gaston, SC.  Moose Racing is once again proud to be a sponsor of this series and is excited to see what happens during this two-day, ISDE-Style format.  Leading the charge for us will be the KR4 Husqvarna Racing Team.  Riders Grant Baylor, Jesper Borjesson and Hunter Neuwirth have their sets sight on getting some good early results and setting the tone for the entire 2017 season.  They will be joined by teammate Tayla Jones who dominated last weekend's NEPG National Enduro Series Round 1 by winning the Women's Class by over 10 minutes.  We wish the best of luck to all our riders.
The AMA AMSOIL Arenacross Series is taking the weekend off to allow riders to get some much needed rest before next weekend's Round 6 in Kansas City, MO.  The Babbitt's Monster Energy Kawasaki Team had another successful weekend in Louisville, KY where it saw Gavin Faith go 1-1 for the overall win.  He was joined in the top five by teammate Gared Steinke who finished 5th overall.
Be sure to stay tuned to http://www.mooseracing.com/ for the latest race updates, gear and accessories.  You can also follow us on Facebook, Twitter and Instagram for the most up-to-date news from Moose Racing.  You can also now search Moose Racing on Pinterest and follow all our boards.
Upcoming Races
February 11, 2017
AMA Monster Energy Supercross Series – Round 6
AT&T Stadium
Arlington, TX
More Information http://www.supercrosslive.com/
February 11-12, 2017
Kenda Full Gas Sprint Enduro Series – Round 1
Moto-Vated Sports Complex
Gaston, SC
More Information http://www.sprintenduro.com/
February 11-12, 2017
Kenda AMA National Hare & Hound Series – Round 2
Red Sands OHV
Alamogordo, NM
More Information http://nationalhareandhound.com/wp/
Open Houses
February 9, 2017
Championship Powersports
7755 State Route 108
Wauseon, OH  42567
Phone:  (419)335-8600
6:00PM-9:00PM
More Information http://www.championshippowersports.com/