Moose Racing had a worldwide presence over the weekend which started under the lights of the Losail MX Track in Qatar.  The KEMEA Yamaha Team took on the first MX2GP of the season with riders Benoit Paturel, Alvin Ostlund and Brent Vandoninck taking on challenging conditions that were constantly changing as nightfall ensued.  At the end of the two-race format, it was Paturel who would find himself in 2nd place overall after moto finishes of 2-2.  Ostlund was able to crack the Top 10 finishing in 10th and Vandoninck rounded out the team effort in 12th.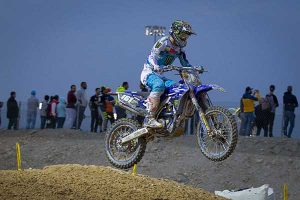 Paturel was quoted as saying, "This is a good way to start the season.  I tried everything I could to pass Pauls, but he was very strong.  In both races I finished right at his wheel, so the speed is there.  But the season is very long and I think we have some nice battles coming up.  It will be important to score well in each race and at the end the most consistent rider will be the world champion."
Closer to home, Georgia played host to a number of different races including Round 8 of the AMA Monster Energy Supercross Series, Round 7 of the AMA AMSOIL Arenacross Series and Round 2 of the Kenda Full Gas Sprint Enduro Series.  At the Georgia Dome on Friday night, the Babbitt's Monster Energy Kawasaki Team got the first crack at racing the same venue the Supercross bikes would hit on Saturday night.
In the East Coast Arenacross Lites Class, Jacob Williamson finished just off the podium in 4th overall and Ryan Breece rounded out the team effort in 7th.  When the premier 250AX Class took off, the whole team was in the mix and ended up claiming five spots in the top 12.  Gavin Faith had the top result, but would narrowly miss a visit to the big box finishing in 4th.  He was followed by Gared Steinke in 5th, Travis Sewell in 8th, Williamson in 11th and Breece in 12th.
The Echeonnee MX facility just outside of Lizella, GA played host to two days of exciting ISDE-style racing at Round 2 of the Kenda Full Gas Sprint Enduro Series.  Beta USA Racing's Jordan Ashburn turned in the top performance for Moose Racing as he ended up 3rd overall in the Pro Class.  He was joined in the Top 10 by KR4 Husqvarna's Jesper Borjesson in 6th and fellow Beta rider Drew Higgins who turned in a solid 8th.  KR4 Husqvarna's Tayla Jones tasted defeat for the first time this season, but still managed to get 2nd in the Women's Class.
Be sure to stay tuned to http://www.mooseracing.com/ for the latest race updates, gear and accessories.  You can also follow us on Facebook, Twitter and Instagram for the most up-to-date news from Moose Racing.  You can also now search Moose Racing on Pinterest and follow all our boards.