After a week in the desert southwest, the AMA Monster Energy Supercross Series heads back to California this Saturday night.  Oakland Alameda County Coliseum is the site of Round 5 of the tour and JGR Yoshimura Suzuki's Phil Nicoletti will be looking to improve on his 9th place finish in Phoenix.  The likable New Yorker has been steadily making progress every week and has every intention of competing for a podium spot.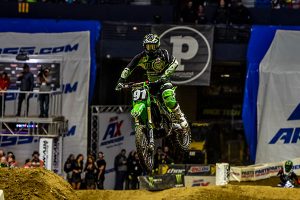 (Jacob Williamson)
Saturday night is also going to be a big night for the AMA AMSOIL Arenacross Series as they also host their Round 5 at Freedom Hall in Louisville, KY.  Freedom Hall is home to one of the most storied NCAA basketball programs in history and the Babbitt's Monster Energy Kawasaki Team will be looking to feed off some of that dominance as well.  Gavin Faith will certainly be in the mix as he tries to feed off another podium finish in Nashville, TN last weekend and looks to be joined on the podium with newly signed teammate Gared Steinke.  In the Arenacross Lites Class, Jacob Williamson is certain to have aspirations of following up on his 1st place overall finish last weekend and hopes to be joined by Cody Williams when the checkers fall.
Another 2017 race series fires up this Sunday as the NEPG National Enduro Series holds its first event of the year in Sumter, SC.  Last weekend saw the Airgroup/Enduro Engineering race team kick off its season with a couple of podium finishes at Round 1 of the AMA East Coast Hare Scrambles Series.  Pro rider Andrew Delong visited the big box in 3rd place overall and AA Expert teammate Thorn Devlin was 2nd in his class.  Both will be looking to make some early noise in this premier offroad series and set the tone for the season.
Be sure to stay tuned to http://www.mooseracing.com/ for the latest race updates, gear and accessories.  You can also follow us on Facebook, Twitter and Instagram for the most up-to-date news from Moose Racing.  You can also now search Moose Racing on Pinterest and follow all our boards.
Upcoming Races
February 4, 2017
AMA Monster Energy Supercross Series – Round 5
Oakland Alameda County Coliseum
Oakland, CA
More Information http://www.supercrosslive.com/
February 4-5, 2017
AMA AMSOIL Arenacross Series – Round 5
Freedom Hall
Louisville, KY
More Information http://www.arenacross.com/
February 5, 2017
AMA NEPG National Enduro Presented by Moose Racing – Round 1
Manchester State Forest
Wedgefield, SC
More Information http://www.nationalenduro.com/
Open Houses
Spring is coming and that means your local dealer is busy planning for an open house.  Be sure to stay tuned to these posts for these upcoming events in your area.