(Babbitt's)
Happy New Year to everyone from Moose Racing!  The upcoming weekend is the one race fans have been waiting for as it unveils the opening round of the 2017 AMA Monster Energy Supercross Series and the opening round of the 2017 AMA AMSOIL Arenacross Series.  It is two different cities and two totally different tracks, but Moose Racing will be well represented at both events.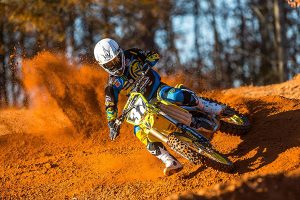 (Phil Nicoletti)
Let's start with Round 1 of the SX Series which will be held at Angels Stadium in Anaheim, CA.  During the day on Saturday the Moose Racing semi will be set up in the pits with all of our new products on display along with staff on hand to answer any technical questions.  At night, the gates will drop where Joe Gibbs Racing's Phil Nicoletti will be rubbing fenders on the #37 Yoshimura built Suzuki Lites bike against the best riders on the planet.  Phil will be running our latest and most advanced racewear to date and putting it through the paces on the biggest stage there is.
The US Bank Arena in Cincinnati, OH is the host venue for Round 1 of the Arenacross Series.  The Babbitt's Monster Energy Kawasaki Team will be out in full force with 2016 series Champion Gavin Faith running the #1 plate.  He will be joined by teammates Jacob Hayes and Travis Sewell.  Moose Racing is also very proud to be sponsoring the newly formed Babbitt's Lites Team consisting of Jacob Williamson, Cody Williams and Ryan Breece.  Arenacross is one of the toughest forms of motocross racing there is and you need tough equipment for the bar-banging action that takes place in the tight confines of the arena.  We are very glad the entire Babbitt's Monster Energy squad chooses to wear our brand because they demand the best!
Be sure to stay tuned to http://www.mooseracing.com/ for the latest race updates, gear and accessories.  You can also follow us on Facebook, Twitter and Instagram for the most up-to-date news from Moose Racing.  You can also now search Moose Racing on Pinterest and follow all our boards.
Upcoming Races
January 6 – 7
WORCS
Mesquite Motocross Park
Mesquite, NV
www.worcsracing.com
January 7, 2017
AMA Monster Energy Supercross Series – Round 1
Angels Stadium
Anaheim, CA
More Information http://supercrosslive.com/
January 7, 2017
AMSOIL AMA Arenacross Series – Round 1
US Bank Arena
Cincinnati, OH
More Information http://www.arenacross.com/
Open Houses
We don't have any dealer open houses to report for this week so all of our fans can just stay indoors and monitoring the racing action.  Stay tuned to these posts for an upcoming dealer open house in your area.