Round 1 of the 2017 AMA Snow Bike Series Championships Presented by Arctiva is in the books and it was a wild weekend at the ERX racing complex in Elk River, MN.  Temperatures dropped well into negative readings which provided the ultimate test of rider and machine.  This event also had an added piece of excitement as it was a qualifier for the Winter X Games in Aspen, CO.
The top finishers would punch their ticket to compete for an X Games medal and this is the first time this type of racing has been included in the popular yearly event.  Our very own Jimmy Jarrett and Kevin Rookstool lined up to start after outfitting themselves in our base layers and technical outerwears.  When the gates dropped, both riders had a decent start, but were unable to get into the lead pack which would ultimately be the qualifying group.  "It was cold, but so much fun", quoted Rookstool.  Jarrett added, "There was some fast kids here today and I got beat fair and square".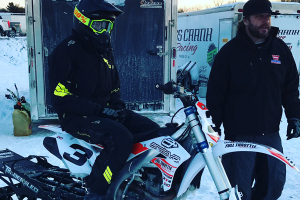 Be sure to stay tuned to http://www.mooseracing.com/ for the latest race updates, gear and accessories.  You can also follow us on Facebook, Twitter and Instagram for the most up-to-date news from Moose Racing.  You can also now search Moose Racing on Pinterest and follow all our boards.