Moose Racing – The Inside Line 1/31/13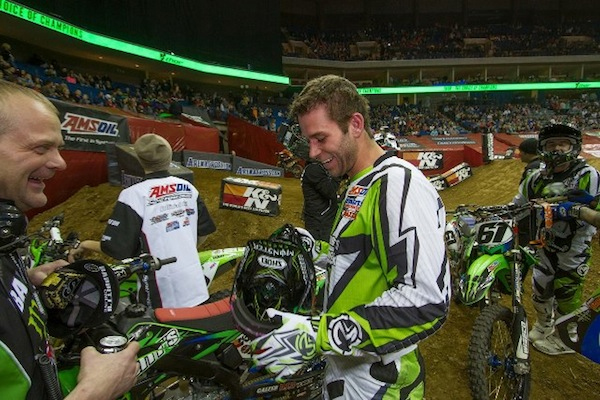 Moose Racing's Tyler Bowers, Zach Ames, and Tyler Villopoto will head to Texas this weekend hoping to keep their momentum going during the two-night event at Cedar Park Center. Bowers enters the weekend with a 38 point lead over second place and a three race win streak. Villopoto earned his first ever Arenacross podium, while also taking the Arenacross Lites win at the previous round in Oklahoma. Ames is looking to bounce back from a tough round, but still holds third in the points standings.
Moose Racing continued to add to its lineup with the return of Jeff Fredette, who will competing in various off-road races along with the ISDE that will take place in Italy. at the beginning of October.
Be sure to stay tuned to Moose Racing for the latest race updates, gear and accessories. You can also follow us on Facebook and Twitter for the most up-to-date news from Moose Racing.
FEATURED PRODUCTS
Moose Racing : Expedition Hard Case Trunks
http://www.mooseracing.com/products/?productGroupId=1748&productId=114783
Universal mounting kit attaches to your existing luggage rack
Quick disconnect mounting system allows trunk to be removed in seconds
All hardware included – everything you need for complete install to your rack
Solid waterproof construction keeps your cargo dry, even when riding in the rain
Two different sizes to choose from
Standard size dimensions: 15" L x 15" W x 10" H (holds one full-face helmet)
Large size dimensions: 17" L x 23" W x 13" H (holds two full-face helmets and other needed gear)
Part Number (standard) : 3516-0068
Part Number (large) : 3516-0118
$89.95 (standard), $144.95 (large)
Moose Utility Division : Foam Handguards
http://www.mooseutilities.com/products/?productGroupId=44143&productId=121280
Heavy-duty 500 denier nylon with 1/2" closed cell foam keeps hands warm and dry
Cinch-strap type fasteners seal around the handlebars
Can be used on dirt bikes, ATVs and snowmobiles
Available in Black and Mossy Oak Breakup
Part Number (Black) : 0635-0760
Part Number (Mossy Oak) : 0635-0761
$23.95 (Mossy Oak), $24.95 (Black)
NRA By Moose : Quick Draw UTV Overhead Gun Carrier
http://www.mooseutilities.com/products/?productGroupId=48372&productId=121485
Holds two guns securely in the inside roof area of the UTV
Unique mounting system installs in just minutes without drilling or bolting
Super-soft runner gun clips provide easy access and secure transport
Fits UTVs which have an upper (roof) frames that measure 23 to 28 inches from front to back
Not for carrying loaded guns
Part Number: 3518-0060
$112.95
UPCOMING RACES
February 1-2, 2013
Amsoil Arenacross Series
Cedar Park Center
Cedar Park, TX
More Information www.arenacross.com
February 2, 2013
Monster Energy Supercross
Angel Stadium
Anaheim, CA
More Information www.supercrossonline.com
**Moose Racing Semi On Site**
February 2-3, 2013
Elizabeth City Motorcycle Club
1520 Northsie Rd.
Elizabeth City, NC
More Information www.ecmx.com
February 2-3, 2013
AMA Big 6 Grand Prix Series
"11th Annual Taft Grand Prix"
Honolulu Hills Raceway
Taft, CA
More Information www.dirtdiggersmc.com
OPEN HOUSES:
Blevins Brothers Inc RV Center
7384 State Hwy. 68
Ogdenburg, NY
Phone: 315-713-4786
Moto Proz
339 1st Ave N
Mazeppa, MN
Phone: 507-843-2855